Dogfish Head Olde School Is Back – W/ Video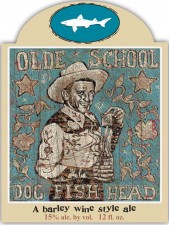 So, you found a couple of Olde Schools … now what? Try this:
Open a bottle, pour contents into two snifters. Enjoy.
Or, walk neck-in-hand into the middle of the woods. Use a shovel to dig a 2 x 2 hole three feet deep. Seal a bottle in a plastic bag. Place in hole and pack with dirt. Memorize location and leave. Return exactly one year later. Dig up bottle, open and enjoy.
Fresh off the shelf or aged, this unfiltered barleywine brewed with figs and dates has a one-of-a-kind boldness.
Olde School was inspired by an old-school brewing manual Dogfish Head Founder Sam Calagione discovered in the early days. In it, a cellarman described how he would bring flat casks back to life by dosing them with crushed pit fruit. The sugars in the pit fruit would reignite the yeast and the beer would be recarbonated.
Boasting about 15% ABV, Olde School is a great candidate to cellar (or bury!). Over time, it matures into a slightly drier beer, and notes of fig and dates come forward while the alcohol and hops recede.
Olde School Barleywine comes out once a year in the fall.