Dogfish Head Goes Deep Into the Woods for the Release of Pennsylvania Tuxedo
(Milton,DE) – Dogfish Head Craft Brewery is excited to announce that Pennsylvania Tuxedo will begin hitting taps and cooler shelves beginning October 20, 2017. Clocking in at 8.5% ABV, this pale ale is brewed with massive additions of fresh spruce tips from the forests outside the Woolrich factory, and its namesake pays homage to the red and black flannel-suited hunters and gatherers who dwell deep in the backcountry of the wintertime-frigid, north-central PA. Brewed in collaboration with the outdoor clothing company, Woolrich, Pennsylvania Tuxedo has a grassy citrus kick complemented by the resinous conifer notes of fresh green spruce tips. A dry, yet doughy malt backbone lets the hops and spruce shine while balancing out the bitterness, making Pennsylvania Tuxedo a classic hunting cabin sipper.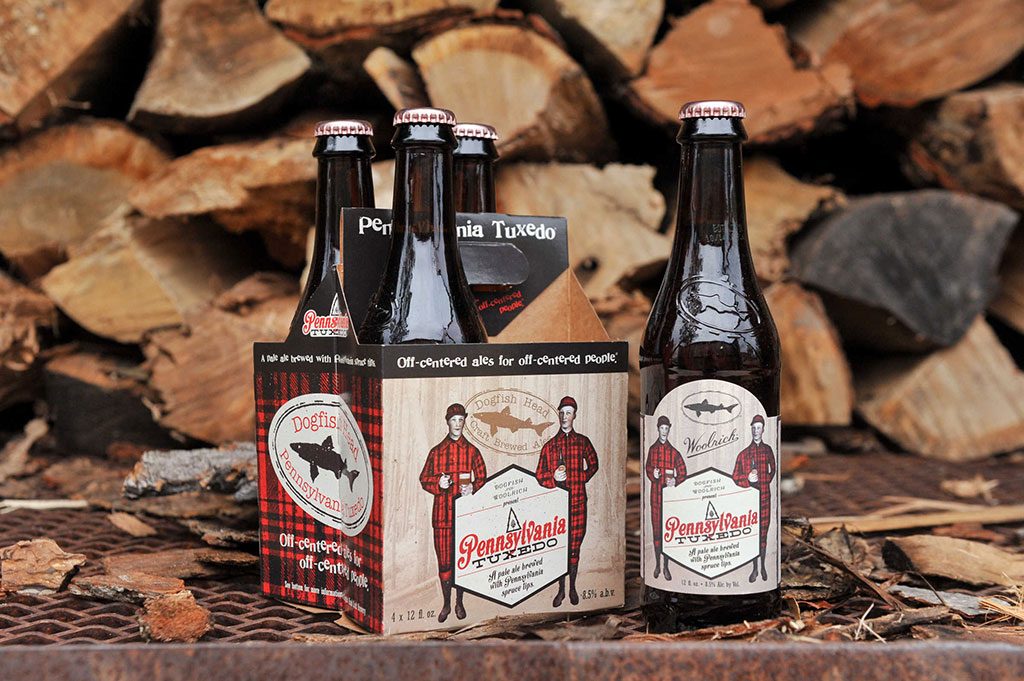 The idea behind the collaboration was inspired by a story from the mid-19th century when Michael Bond Rich, grandson of Woolrich founder, John Rich, had an unforgettable encounter with spruce beer. "I read the Woolrich family journals, and in it they talked about farming for wheat and rye, and that the young Rich almost died falling off the rafter drinking his homemade spruce beer – so I was like, let's see if we can do something to bring that beer back to life," says Sam Calagione, founder and CEO of Dogfish Head Craft Brewery.
Originally released in 2014 as a brewpub exclusive in Rehoboth, Del., this outdoorsy ale has fresh spruce tips added at the end of the boil, so you get some spruce in the taste and in the aroma. "Pennsylvania Tuxedo smells like Paul Bunyan's cologne and tastes like tongue-kissing Mother Nature," says Calagione, "and it's a labor of love that we hope you'll share with friends this winter." To find and enjoy Pennsylvania Tuxedo and other off-centered Dogfish Head brews in your area, visit www.dogfish.com/brewery/fishfinder.
Dogfish Head has proudly been focused on brewing beers with culinary ingredients outside the Reinheitsgebot since the day it opened as the smallest American craft brewery 22 years ago. Dogfish Head has grown into a top-20 craft brewery and has won numerous awards throughout the years including Wine Enthusiast's 2015 Brewery of the Year and the James Beard Foundation Award for 2017 Outstanding Wine, Spirits, or Beer Professional.    It is a 250+ coworker company based in Delaware with Dogfish Head Brewings & Eats, an off-centered brewpub and distillery, Chesapeake & Maine, a geographically enamored seafood restaurant, Dogfish Inn, a beer-themed inn on the harbor and Dogfish Head Craft Brewery, a production brewery and distillery featuring a tasting room and food truck.  Dogfish Head supports the Independent Craft Brewing Seal, the definitive icon for American craft breweries to identify themselves to be independently-owned and carries the torch of transparency, brewing innovation and the freedom of choice originally forged by brewing community pioneers.  Dogfish Head currently sells beer in 37 states and Washington D.C. and will expand into additional states in 2017.
www.dogfish.com – @dogfishbeer – facebook