Dogfish Head Expands Distribution to Utah
(Milton, DE) – Dogfish Head Craft Brewery is happy to announce its collection of off-centered beers is on its way to the great state of Utah beginning mid-August. The Delaware-based craft brewery partnered with Carlson Distributing to bring Dogfish Head's flavorful ales to residents throughout the state of Utah, taking the company's total market distribution to 43 states and Washington, D.C.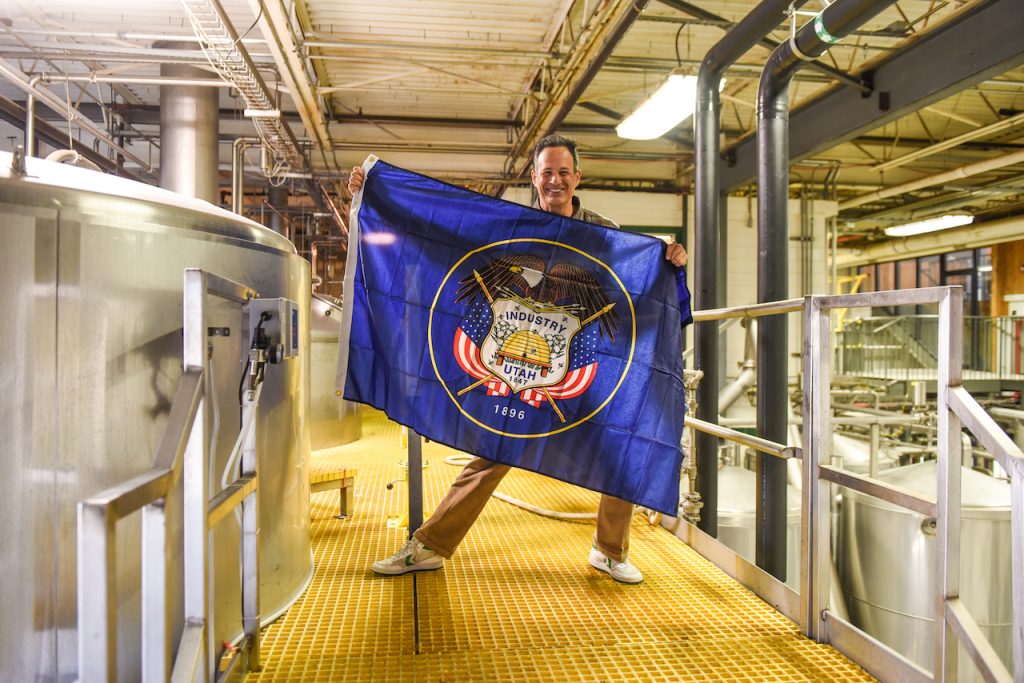 Committed to consistently delivering goodness to its fans, Dogfish Head strategized and laid the groundwork for a forward-looking growth plan for Utah and beyond. The brewery enjoyed explosive double digit growth in 2017 and tripled the size of its sales team to further support its existing distribution partners across the nation. Along with its diverse and innovative portfolio of craft beers, Dogfish redesigned its artwork, revamped its packaging, introduced cans to the mix, and announced a 2018 artist collaboration with Marq Spusta for the Off-Centered Art Series.
"We're excited to ship our innovative beers to Dogfish fans in Utah and to begin a great and long-lasting relationship with the beer drinkers, retailers, and distributor partners in the state," said Sam Calagione, founder and CEO of Dogfish Head Craft Brewery. "We have our canning and bottling lines pumping out a ton of beer and enough brewing capacity to ensure we can keep retailers well stocked with our well-differentiated family of beers for years to come."
Dogfish fans in Utah can expect to see all of the brewery's iconic, fan-favorites, including 60 Minute IPA, SeaQuench Ale, Flesh & Blood IPA and 90 Minute IPA. Off-Centered Art Series releases and limited quantities of occasional rarities will also be available throughout the year. For more information about off-centered ales from Dogfish Head, fans can visit www.dogfish.com.
Dogfish Head Brews and Utah Chews
For those craving a bite with their Dogfish Head beers, the brewery suggests pairing these off-centered pints with some well-known Utah dishes.
90 Minute IPA is a great match for the iconic Pastrami Burger. Its sturdy malt backbone stands up to the rich, salty flavors in this sandwich, and its prominent West Coast hops are an excellent foil to the burger's slightly sweet, creamy dressing.
Grab a 60 Minute IPA while enjoying Funeral Potatoes. Its assertive citrusy and piney hops counter the slight saltiness of this dish, while its crisp finish balances out the creaminess of the casserole.
###
Dogfish Head:
Dogfish Head has proudly been focused on brewing beers with culinary ingredients outside the Reinheitsgebot since the day it opened as the smallest American craft brewery 23 years ago. Dogfish Head has grown into a top-20 craft brewery and has won numerous awards throughout the years including Wine Enthusiast's 2015 Brewery of the Year and the James Beard Foundation Award for 2017 Outstanding Wine, Spirits, or Beer Professional. It is a 300+ coworker company based in Delaware with Dogfish Head Brewings & Eats, an off-centered brewpub and distillery, Chesapeake & Maine, a geographically enamored seafood restaurant, Dogfish Inn, a beer-themed inn on the harbor and Dogfish Head Craft Brewery, a production brewery and distillery featuring a tasting room and food truck. Dogfish Head supports the Independent Craft Brewing Seal, the definitive icon for American craft breweries to identify themselves to be independently-owned and carries the torch of transparency, brewing innovation and the freedom of choice originally forged by brewing community pioneers. Dogfish Head currently sells beer in 43 states and Washington D.C. and will expand into additional states in 2018. For more information, visit www.dogfish.com, Facebook: @dogfishheadbeer, Twitter: @dogfishbeer, and Instagram: dogfishhead