Dogfish Head Expands Distribution to Missouri
(Milton, DE) – We are beyond happy to announce that we'll be releasing our entire collection of off-centered brews to beer lovers in Missouri, expanding our distribution footprint to 34 markets! It's been a long time coming and we're stoked to be heading to the Show-Me State!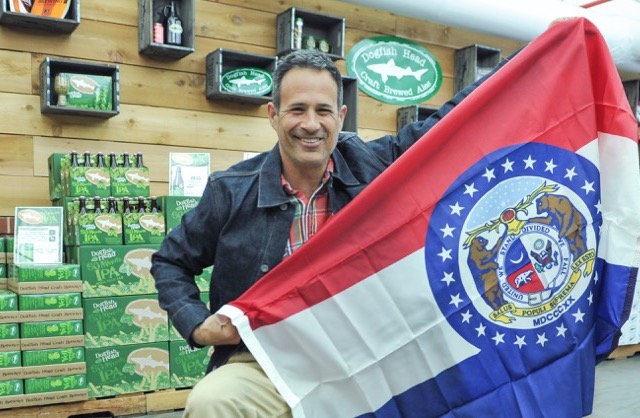 There's one Dogfish fan that has gone above and beyond in his pursuit of bringing our beers to Missouri, launching a daily, five-year Twitter campaign with one goal in mind, bringing off-centered ales to his home state. In 2012, Dogfish super-fan and all around super-guy, Skylar Wallace, embarked on a tweet-a-day crusade! He would post a daily Twitter update to our page or about his devotion to Dogfish in an effort to show love and loyalty to his beloved, off-centered brewery, and hopefully convince us to begin distributing in the state. After more than 1600 tweets and daily #DFB2KC (Dogfish Beer to Kansas City) posts, the mission was realized.
"I am so happy that you guys are finally coming to Missouri," says Skylar. "Sam and his incredible passion for Dogfish beer took root in me, and I owe my love of craft beer to him – I couldn't get past the contagious passion he showed towards beer and wanted to try and be a part of it in any way I could." Skylar and Sam met in Kansas City in 2014 and the two hit it off, sharing stories of craft beer love.
"I wanted to give Skylar a Dogfish shirt when we met but I didn't have a spare, so I took off the shirt I was wearing, and gave it to my new beer buddy," says Sam. "Since we'll be spending more time in Missouri going forward, I hope to share a Flesh & Blood IPA with Skylar, check on my old shirt and bring him some never-worn Dogfish Head swag."
Our Missouri fans can expect to enjoy a full line-up of iconic, fan-favorite brews, including 90 Minute IPA, Namaste White, Indian Brown, 60 Minute IPA, SeaQuench Ale, Flesh & Blood IPA, Palo Santo Marron, Burton Baton, Midas Touch, and seasonal releases. Limited quantities of specialty beers and occasional rarities will also be available throughout the year.
Curious how our off-centered ales are going to pair with some classic Missouri munchies? Here's what we're thinking…
Flesh and Blood IPA, an honest to goodness India Pale Ale brewed with a bevy of real citrus, is the ideal refreshment to pair with a plate of sweet and spicy Kansas City barbeque. The bold hops and citrus-forward flavors perfectly balance out the savory, saucy tastes. It's the ideal brew for the 'cue-niverse!
The next time you order a delicious St. Louis style pizza, be sure to reach for a 60 Minute IPA, a fan-favorite, Dogfish Head continually hopped India Pale Ale. The powerful but balanced East Coast IPA is the ideal brew for a thin, crispy pie.
Try pairing an Indian Brown, the prototypical dark IPA, with a delicious serving of Toasted Ravioli, a mouthwatering Missouri staple! The roasty malt profile of Indian Brown provides a nice complement to the cheesy flavors in the toasted ravioli, as the roasty malt and well-balanced hops pair well with this deep-fried treat.
Learn more at www.dogfish.com.