Dogfish Head Celebrates the Summer with Lupu-Luau IPA!
(Milton, DE) – Dogfish Head Craft Brewery is excited to welcome its newest off-centered ale to the party, Lupu-Luau IPA, a coconut-centric India Pale Ale brewed with a tropical trifecta of toasted coconut, experimental hops and dehydrated coconut water. Clocking in at 7.3% ABV and 45 IBUs, this unique take on a tropical IPA begins shipping nationally to taps and shelves in early June. Hazy with a white head, Lupu-Luau IPA gets its name from Lupulin, the hop flower gland containing essential oils, and luau, because Lupu-Luau is a tropical party in your mouth!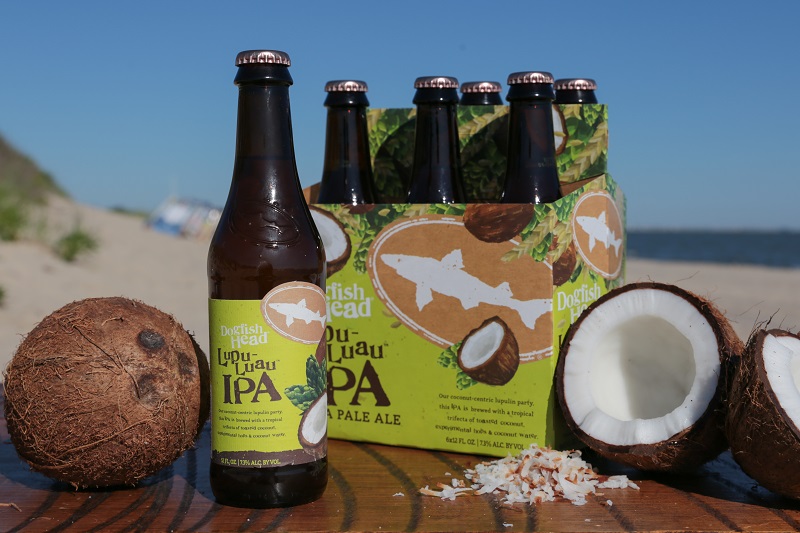 Lupu Luau IPA gets its unique, tropical fruit, pineapple and citrusy aroma from an experimental hop that throws generous coconut and woodsy notes into the flavor profile of the beer. "We worked hard to secure the majority of the full domestic yield of this experimental hop crop for years to come and Dogfish is currently the only brewery contracted to purchase it," says Sam Calagione, founder and CEO of Dogfish Head Craft Brewery. "We use dehydrated coconut water that contains delicious natural sugars and flaked toasted coconut as centerpieces of the beer – ingredients that pay homage to Coco Loco, a coconut blonde brewpub exclusive we brewed back in 2011 and an early example of tropical fruit IPA innovation from Dogfish."
India Pale Ale is the highest-volume and fastest growing beer style in America and the largest breakout sub-style is the fruit IPA. In May 2017, the Brewers Association reported that the fruit IPA experienced a 236.67% growth in a rolling 52 week period. Dogfish Head is proud to be a leading pioneer in the evolution of the fruit IPA arena as it is the first American brewery to package and ship fruit IPAs nationally. In 1996, Dogfish released Aprihop, a massively hopped fruit India Pale Ale brewed with apricots, and the brewery has continued to innovate and experiment with all natural culinary ingredients including beautiful fruits, fresh citrus and tropical coconuts. To find and enjoy Lupu-Luau IPA and other off-centered Dogfish Head brews in your area, visit www.dogfish.com/brewery/fishfinder.
About Dogfish Head:
Dogfish Head has proudly been focused on brewing beers with culinary ingredients outside the Reinheitsgebot since the day it opened as the smallest American craft brewery 22 years ago. Dogfish Head has grown into a top-20 craft brewery and has won numerous awards throughout the years including Wine Enthusiast's 2015 Brewery of the Year and the James Beard Foundation Award for 2017 Outstanding Wine, Spirits, or Beer Professional. It is a 250+ coworker company based in Delaware with Dogfish Head Brewings & Eats, an off-centered brewpub and distillery, Chesapeake & Maine, a geographically enamored seafood restaurant, Dogfish Inn, a beer-themed inn on the harbor and Dogfish Head Craft Brewery, a production brewery and distillery featuring a tasting room and food truck. Dogfish Head supports the Independent Craft Brewing Seal, the definitive icon for American craft breweries to identify themselves to be independently-owned and carries the torch of transparency, brewing innovation and the freedom of choice originally forged by brewing community pioneers. Dogfish Head currently sells beer in 37 states and Washington D.C. and will expand into additional states in 2017.
www.dogfish.com – @dogfishbeer – facebook