Dogfish Head – Brew Masters Changes Days Again and World Wide Stout Release Info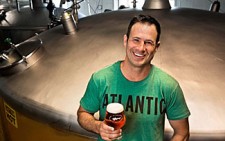 We just got a few pieces of interesting info right from Mrs. Calagione this morning in regards to Discovery's Brew Masters as well as the anticipated release of World Wide Stout.
Brew Masters
'Brew Masters' is moving to Thursdays! Not sure of all the intricacies of TV programming (we're sticking to beer making), but I am personally glad for the earlier time slot.
Starting Thursday, Dec. 9, all new BREW MASTERS episodes will premiere Thursdays at 8 p.m. E/P.
Here is the episode guide:
http://dsc.discovery.com/tv/brew-masters/episodes.html
The clips: thanks to requests from some bloggers, Discovery is now putting clips on YouTube – to make it easier for folks to embed and share! Below are links to the two clips posted by Discovery for the brand new episode on Thursday, 12/9/10. Feel free to share (we'll probably wait to start posting them next week, but feel free to go ahead and use them now if you'd like)!
IPA Lesson: http://www.youtube.com/watch?v=kl0LF9A0oL4&feature=channel
Sippin Surfboards: http://www.youtube.com/watch?v=sE2r4rRA2I0
World Wide Stout and Fort
World Wide Stout is now out and about and Fort will be leaving the brewery and heading to wholesalers towards the end of December.