Dogfish Head Beer Thousand Release Details
(Milton,DE) – Through two decades of epic live performances, ups and downs, breakups and reunions, self-financed basement sessions and major-label releases, there's been one constant for indie legends Guided by Voices: lots and lots of American lager.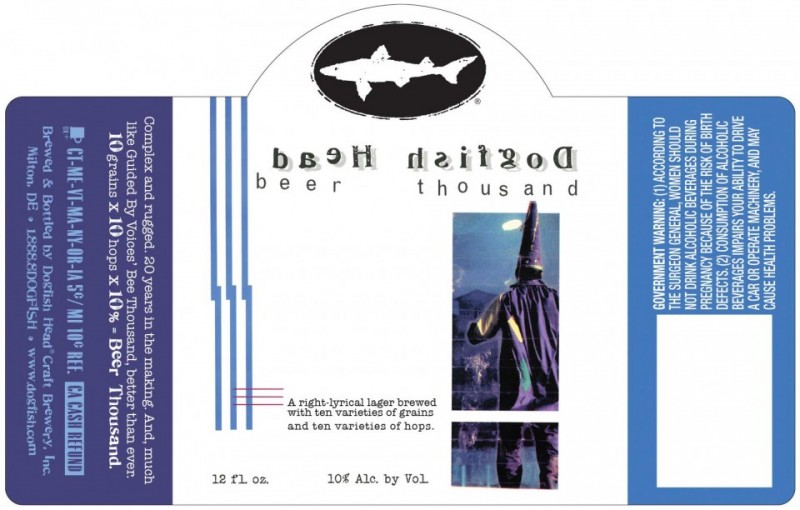 To celebrate the band's independent spirit and the 20th anniversary of the classic album Bee Thousand, Dogfish Head has brewed the bracing but highly quaffable BEER Thousand. This imperial lager includes 10 grains and 10 hop varieties and clocks in at 10% ABV.
10x10x10 = BEER Thousand.
No sipper, BEER Thousand looks like a light lager and has much of the light lager recipe DNA but it is amplified like a barleywine. Fleeting fruit notes in the aroma give way to a sweet and malty flavor and a clean, warm finish. It goes down perfectly between barrages of low-fi 90-second jams.
"I can't believe it's been 20 years," says GBV frontman Robert Pollard. "But I'll drink to that."
SPECIAL RELEASE
We're doing 1,000 cases of 6 750 ml bottles that will include A record (10 songs recorded June 25, 1994, during the "Insects of Rock" tour, the band's first tour). The rest will be sold in 4-packs of 12 oz. bottles.
BY THE NUMBERS

10 grains
2-row pale malt
6-row pale malt
Corn
Rice
Wheat
Dark Munich malt
Carapils malt
Light caramel malt
Dark caramel malt
Flaked barley
10 hops
Warrior
CTZ
Simcoe
Cluster
Galena
Galaxy
Centennial
Willamette
Cascade
Vanguard
Celebrating the spirit of indie rock, this beer is comin' atcha in a few special ways.
Off-centered box sets
We're packing up six 750ml bottles and one never-released 10″ vinyl of a 1994 Guided by Voices show, all in one very special box. This box set is limited, only 1,000 sets to be exact.
box set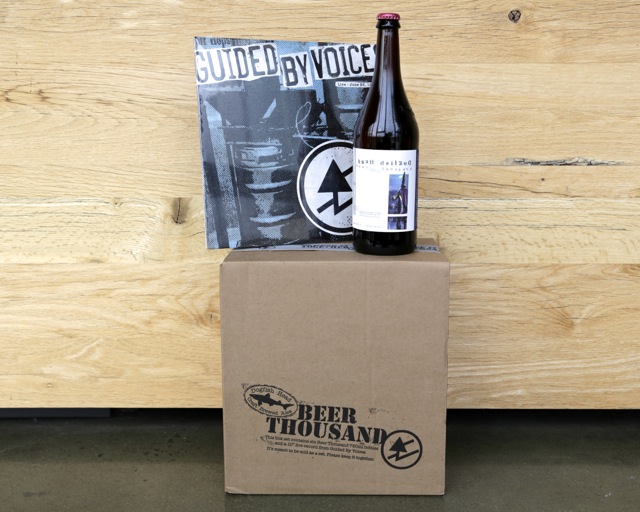 Cases of 24
Worried you won't be able to track down one of these limited sets, but NEED to get your hands on this beer? No worries, we're shipping out cases of 12oz bottles and kegs as well!
case of 24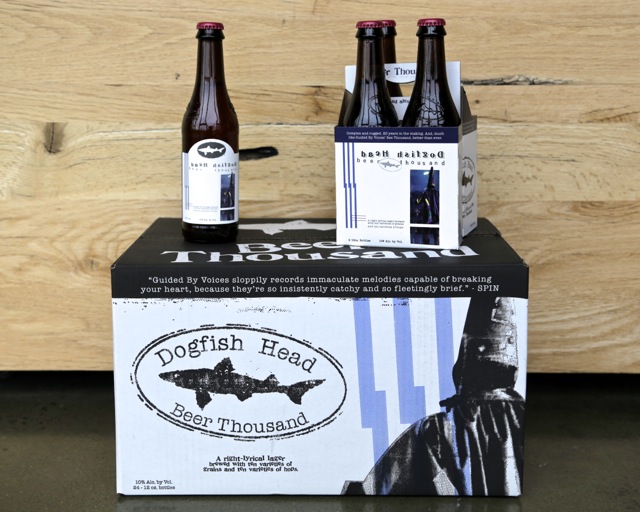 Here's the full skinny on the BEER Thousand release …
-Box sets, 12oz. bottle cases, and kegs are set to start shipping on 11/10. We ship to wholesalers first, so it may take between 2-4 weeks before you see it at your favorite spot.
-BEER Thousand is NOT yet listed on our Fish Finder. It won't show up until received by a retail account, so give it a bit.
-We're sorry, but we can't give you exact locations to find the special box sets with the vinyl because even we don't have that info until it appears on the Fish Finder. If you have a craft store that usually carries a full selection of our occasional releases, chances are good that they'll end up with some BEER Thousand.
-We can only ask retailers to pretty-please not open the six-packs and take out the record, but that doesn't always happen. In the past we've had customers find 750s for sale individually. It's a bummer, but it happens.
-12 oz. bottles don't come with a record.
-We'll be sending BEER Thousand to our wholesale partners in the following states— AZ, CA, CO, CT, DC, DE, FL, GA, IL, IN, KY, ME, MA, MD, MI, NV, NJ, NY, NC, OH, OR, PA, RI, SC, TX, VT, VA, WA, WI
-States NOT approved for ANY sale of BEER Thousand— New Hampshire & Tennessee.
-States NOT approved for the 750ml box set— California, Connecticut, Georgia, & Maine.
And that's about it … phew!
Now, if you happen to be in the area, we're celebrating the release of BEER Thousand on Monday, 11/10 at our Milton brewery and Rehoboth brewpub. Check it out here!