Dogfish Head – 2011 Release Schedule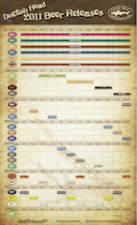 Hot off the presses, here is the 2011 Release Schedule from Dogfish Head. Enjoy!
Here's a note as well from Dogfish regarding the 2011 Release Schedule:
In all, we're planning to release more than 26 beers from the Milton brewery next year. We say 'more than' because a few regionally-limited beers don't make the list (Shelter Pale Ale and our draft-only Lawnmower and our Extreme Beer Fest beer). What you also won't see on the schedule is 75 Minute IPA – a cask-only blend of our 60 and 90 Minute IPAs. Don't worry though, all three of those beers are still on the production schedule.
Click the image to download the PDF version of the release schedule.
What you will see all the way at the bottom is the plan to release our new 'Brand X' beers in November of 2011. While we aren't ready to share all the details on these beers quite yet, we are having lots of fun testing and planning the release of them, so stay tuned.
Finally, we continue to bring a whole slew of experimental and test-batch beers to you via the taps at our Rehoboth Beach brewpub. These Brewpub Exclusive beers are released continually through the year and you can find out What's On Tap at the Rehoboth pub anytime.
In advance, we're sorry if one of your favorite one-off releases or collaboration didn't make the 2011 list, but there's so little production time and so many great beers to be made!