Dock Street Brewing's Sexual Chocolate Now On Tap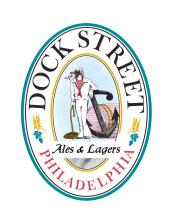 DOCK STREET UNLEASHES SEXUAL CHOCOLATE
Philadelphia,PA- As of February 3rd, 2010- Dock Street invigorates the senses, yet again, with this year's batch of the long awaited and savored Sexual Chocolate.
Sexual Chocolate is an Imperial Stout, strongly influenced by the creative and artistic nature of Belgian beer.  This luscious and velvety ale is silky smooth and oily on the tongue from the addition of 22 lbs of Belgian Chocolate (100% cocoa, no sugar) which is added to the boil in the kettle.

The chocolate and roasted malts mingle with one another resulting in a deliciously bitter-sweet concoction that is dangerously drinkable despite it's strength.
This year's batch will weigh in around 8% ABV with 35 IBU's.  It was brewed using German Magnum hops for bittering with a small addition of Styrian Golding hops for subtle earthy notes in the finish.  To add further layers of complexity to this distinctive ale, it was fermented with a unique new yeast strain originating from the Eastern Flanders region of Belgium.
Available for draft only, you will find Sexual Chocolate on tap at select bars and restaurants throughout Philadelphia for a limited time; so be sure to ask for it at your favorite watering hole. This enticing brew will of course be available at the brewery and will make its debut at Dock Street on February 11th to coincide with a special dessert menu and tasting celebration. The dessert, designed by Dock Street's kitchen to perfectly compliment the sensual stout, will take advantage of the pub's wood fired oven: a gourmet chocolate pizza. Just think… pizza meets dessert meets a wickedly delicious stout. Sounds perfect! Experience Sexual Chocolate before you miss your chance because when it's gone, it's gone!
JOIN US AT DOCK STREET- THURSDAY, FEBRUARY 11th, 6-8pm
COMPLIMENTARY TASTING FROM THE BREWERS