Dock Street Brewer Ben Potts Goes Cross-Country And Visits DS Veteran Brewer Will Kemper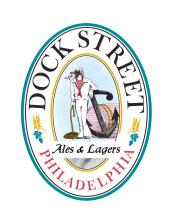 Philadelphia, PA – Dock Street Brewer Ben Potts travels to the state of Washington to brew with Dock Street's first brewer Will Kemper at Chuckanut Brewery.
Will Kemper, a virtuoso in his craft, was the original brewer for Dock Street Brewery at 18th & Cherry St. A seasoned, traditional brewmaster with astounding talents, Will has traveled the world to perfect his skill and as such his expertise earned him 5 Great American Beer Festival medals in 2009.
Two of theses medals were Small Brewer and Small Brewpub of the Year. Will is best known for brewing and perfecting traditional German lagers. In fact, Chuckanut is one of the few craft breweries in the US making true lager beers.
Ben Potts began brewing in 2003 with the purchase of a few simple kits from a homebrew store. A true artiste, Ben quickly began experimenting and creating his own recipes. Inspired by his creations, Ben entered his beers into various competitions and saw only winning results. After a brief stint at art school, Ben realized he could combine his love for making beer and his artistic ambitions with a career in brewing as his new canvas. He began volunteering at Dock Street and eventually took the position of Head Brewer. Keeping true to his homebrewing roots, Ben continues to push the limits of beer styles while staying true to the highest quality standards that are associated with Dock Street Beers. In this sense, he is following the tradition that Will started at Dock Street Brewery in 1990.
Will and Ben are sharing their tales and talents. Ben is a creative, young brewer; Will is a traditional veteran brewmaster. A great master is forever a student to the craft and Dock Street Brewery is proud to bring these two great brewers together.
Ben returns to Dock Street on August 16th. We welcome the press to stop in and chat about his 'cross-country journey into Dock Street's past'. If you would like to get the conversation started, please contact Rosemarie ([email protected]) or Ben ([email protected]).
Cheers!
www.dockstreetbeer.com
www.facebook.com/dockstreetbeer
www.twitter.com/dockstreetbeer