Devil's Backbone Cran-Gose, Part of New 2016 Daypack Series
(LEXINGTON, VA) – Devils Backbone Brewing Company introduces Cran-Gose, a tart cranberry ale (4% ABV) that launches the 2016 Daypack Series. Based on the traditional gose brewing style, Cran-Gose is light, fruity and pink hued with a cranberry aroma and a naturally refreshing finish.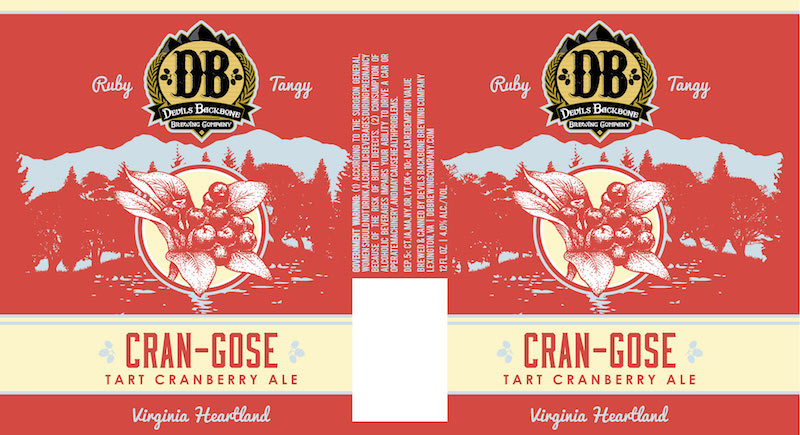 "A gose is an old Germanic style sour ale, lightly flavored with salt that creates a tart taste with subtle citrus notes and a slightly salty mouthfeel. It's a really great base to build upon and for this beer, we added hundreds of pounds of pureed cranberry. The natural tartness of cranberry works well with the fruity character of the beer," said Brewmaster Jason Oliver.
Cran-Gose is the first beer in the 2016 Daypack Series. The quick, easy, and mobile beers of the Daypack Series are made to complement your passion, wherever it may take you. Daypack beers are all sessionable, under 5% ABV. The approachable style is canned for maximum mobility to throw into your daypack any time of year and head out to craft an adventure.
The series also debuts a new design for Devils Backbone canned six-packs: an eco-friendly carton that showcases the vibrant color of the cans inside and on the bottom, the release schedule for all the 2016 Daypack beers. Cran-Gose is available now through April in cans and on draft throughout the Devils Backbone distribution footprint in Virginia, District of Columbia, Maryland, North Carolina, Tennessee and West Virginia.
Devils Backbone beers are inspired by the great brewing traditions of Europe and the ingenuity of modern craft brewing. Devils Backbone has earned numerous accolades for its beers, exceling in the art of lager brewing in an ale dominated industry. The brewing team has received medals from the World Beer Cup, Australian International Beer Awards, Virginia Craft Brewers Fest and the Great American Beer Festival® including national titles for GABF 2014 Mid-Sized Brewing Company and Brew Team of the Year, 2013 Small Brewing Company and Small Brewing Company Brewer of the Year and 2012 Small Brewpub and Small Brewpub Brewer of the Year.
Devils Backbone operates two breweries in central Virginia: Basecamp Brewpub & Meadows (200 Mosbys Run, Roseland, VA) the original brewery, restaurant and the Meadows, the new outdoor beer and dining area, located at the foot of the Blue Ridge Mountains in scenic Nelson County; and the Outpost Brewery & Tap Room, a state-of-the-art production brewery and tap room (50 North Wind Lane, Lexington, VA.)
In 2008, founders Steve Crandall and his wife Heidi, inspired by a skiing trip where they had their first taste of German beer, opened the doors to Devils Backbone Brewing Company in the heartland of Virginia. Basecamp Brewpub was an instant regional success and with so many beer lovers asking where they could purchase the brews, they broke ground on the Outpost in 2011. Anticipated to produce 10,000 barrels of beer in the first ten years of operation, the Outpost reached 45,000 barrels in the first three years and recently completed an additional expansion to reach 250,000 barrels.
For more information, please visit dbbrewingcompany.com. You can also follow along as they Craft an Adventure #DBdaypack on Facebook/devilsbackbonebrewingcompany, Twitter @dbbrewingco and Instagram @devilsbackbonebrewingcompany.