Details on Speakeasy Ales & Lagers 21st Anniversary Event
(San Francisco, CA) — Speakeasy Ales & Lagers has been in the craft beer game for more than two decades brewing exceptional small batch beers at their San Francisco Bayview-Hunters Point brewery. On Saturday, August 25, Speakeasy Ales & Lagers celebrates the gilded era of craft beer with a 21st Anniversary event inviting beer aficionados to join the Speakeasy staff inside the taproom with exclusive VIP access (VIP ticket packages range in price), in addition to the General Admission experience for only $5. Whether you book theGodfather's Office or Scarface's Lounge for you and your closest friends or simply join the party for tastings of up to 17 draft beers, Speakeasy Ales & Lagers hosts one of the summer's most anticipated Bay Area craft beer events with an array of their favorite San Francisco businesses.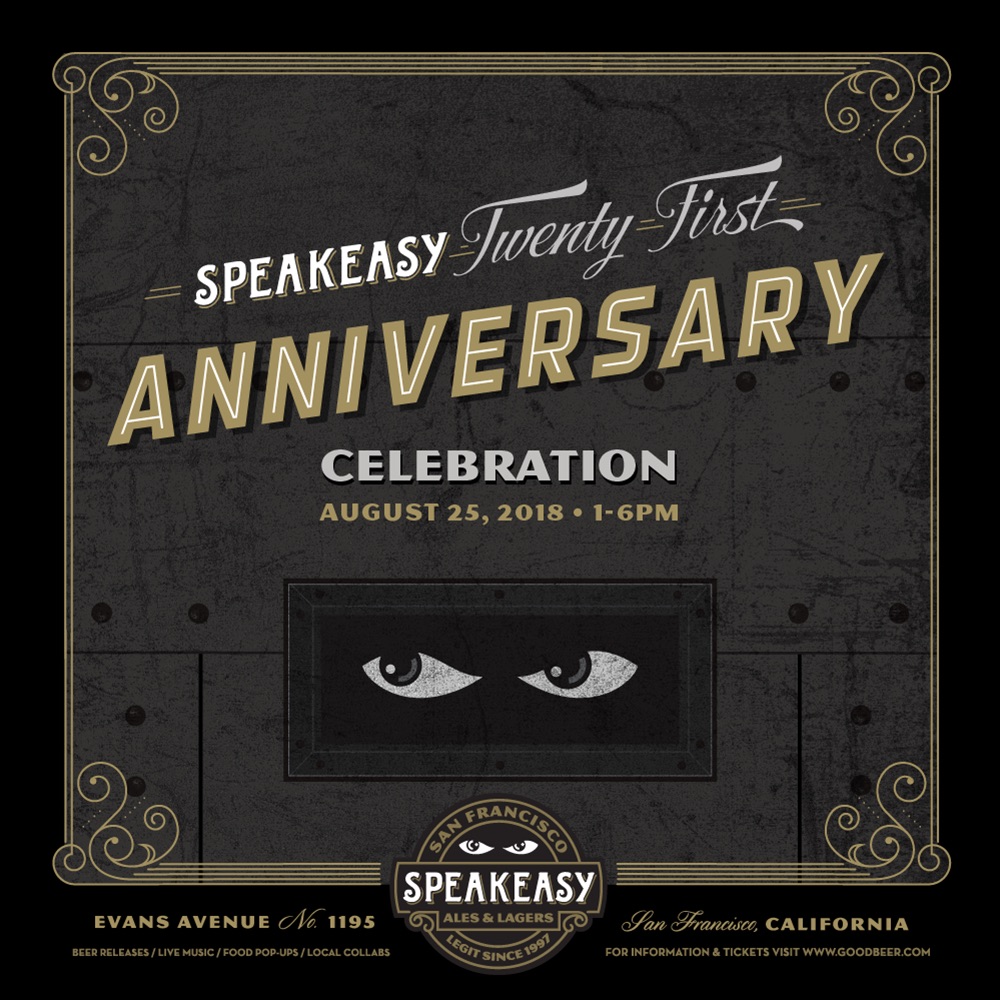 Achieving 21 years in the beer business is certainly a milestone, and with their upcoming anniversary summer bash Speakeasy & Lagers also hoists a pint in celebration of being open for almost a year under its new ownership. Marking such a momentous occasion is the special draft-only release of Gilded Ale, a Golden Stout with Gold Glitter paying homage to the golden era of Speakeasy. The 21st Anniversary event also serves as the annual 22 oz. bottle release of Syndicate Series No. 04. A unique blend of Speakeasy beers that have been aged for no less than one year in bourbon barrels, Syndicate Series No. 04 includes Scarface Imperial Stout (Aged 22 Months), Fixed Fight Old Ale (Aged 20 Months), Scarface Imperial Stout (Aged 23 Months),Betrayal (Aged 50 Months), and Old Godfather (Aged 48 Months). Syndicate No. 04 pours dark with heavy tobacco, leather, chocolate, and vanilla notes along with hints of dark fruit and coffee. Syndicate No. 04 clocks in at over 10% ABV, but is smoothed over by its extensive aging time.
Many of San Francisco's revered local businesses will join Speakeasy Ales & Lagers' epic anniversary party, including Philz Coffee, Dandelion Chocolate, Humphry Slocombe, Etta+Billie, Glass Coat Photo Booth, Regrained, El Taquero, Samara Southern Creations, and Long Bridge Pizza. Live music by The Helltones, Mad Mama and the Bona Fide Few, and Sweetwater Black.
VIP tickets ($50) include access to the taproom, a Speakeasy 5 oz. glass with unlimited tastings, a Syndicate Series Vertical Flight, and early entry at 1 pm. Speakeasy Taster Glass tickets ($30) include unlimited tastings and early access at 1pm. Pre-sale General Admission tickets ($5) include one beer, and GA tickets ($5) at the door allows entrance only.
Tickets are now on sale at https://speakeasybeer.ticketsauce.com/e/speakeasy-ales-lagers-anniversary-2018/tickets

About Speakeasy Ales & Lagers
Speakeasy Ales & Lagers has been defiantly brewing small batch beers in San Francisco's Bayview-Hunters Point neighborhood since 1997. The brewery started with a single iconic beer, still made today, Prohibition Ale. The hoppy amber beer embodies the spirit of bootleggers and gangsters who persevered when America's taps ran dry. Speakeasy quickly gained a loyal following with its bold, complex beers, and striking 1920s imagery. Speakeasy's kingpin Big Daddy IPA is the brewery's highest seller among its wide array of celebrated beers, from session ales to bourbon barrel-aged imperial stouts. In 2013, the Speakeasy Taproom opened serving thousands of local craft beer lovers with fresh draft beer to be enjoyed onsite or to-go in growlers and crowlers.
Speakeasy's original 15 barrel brewing system was replaced in 2015 during a major expansion, which included a 60 barrel brewhouse, centrifuge, malt handling system, canning line, and an additional 1,200 barrels of fermentation capacity.
Hunters Point Brewery LLC, a company founded by former owner of Horizon Beverage Company, Ces Butner, acquired the Speakeasy beer brands and brewing equipment in 2017. Under new ownership, Speakeasy Ales & Lagers will grow by leaps and bounds. The brewery's trademark eyes, ubiquitous and cryptic, beckon you to join our mob, no password required.
Speakeasy Ales & Lagers' taproom is located at 1195 Evans Avenue, San Francisco, CA.
For more information, please visit:
https://www.goodbeer.com