Details on Cigar City Widmer Brother's Collaboration 'Gentlemen's Club'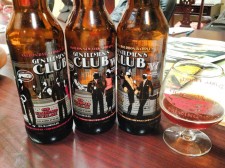 File this under almost flew under the radar, Cigar City  Brewing made a  collaboration with Widmer Brother's Brewing on a beer called Gentlemen's Club. According to the tale below and the picture shown on FB, there are 3 different wood aged variants of this beer.  Cheers!
Just got a couple bottles of our collab with Widmer Brothers in Portland! The story behind this is one base beer, a 10.5% ABV old ale with cherries, lemon and cherries, aged three different ways: one in bourbon barrels, one in whiskey barrels and the other on white oak. Absolutely delicious! The full details for the release here in Tampa will be announced soon. However if you're in Oregon you'll want to keep your head up this week as there's a good chance you'll run into our brewmaster Wayne out there!
It's about time you follow Cigar City Brewing on Facbeook