Details On Green Flash's Cellar 3 Series Featuring Silva Stout
(San Diego,CA) – Green Flash Brewing is continuing to tweak their branding as they rapidly expand production. Recently, a draft label of Silva Stout popped up online mentioning Green Flash's new small batch barrel program, branded as Cellar 3. What caught our eye was the label referred to the upcoming batch of Silva Stout as 'Batch 01.' Anyone who has followed along knows that there have been two previous bottled batches of this awesome barrel aged stout. We reached out to Green Flash to get clarification.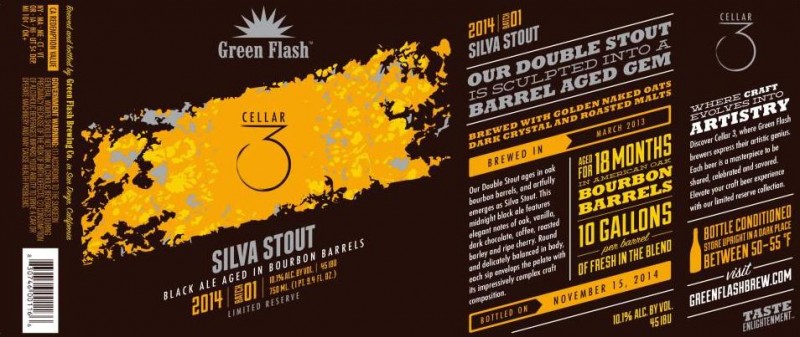 Cellar 3 is a new packaging facility and tasting room for (primarily) barrel-aged beer in cork-finish bottles. It will be located in Poway, about 20 minutes from our main facility and it will open in the Spring. The label you see is for the first release of Cellar 3 which will be Silva Stout. All of the specific data on the bottle (dates, gallons, etc…) are merely placeholders and will be accurate on the actual bottles as they are produced.

It is impossible to know the details of each batch until they are actually produced. Chuck Silva (Brewmaster) and Pat Korn (Barrelmaster) will taste and smell every barrel and select the barrels to be used. Then they will slowly add fresh beer back until the exact desired taste is achieved.

We age the beer a very long time in the barrel, usually 18 months or more, to achieve a very distinct flavor that is intense enough to carry through the blending of fresh beer. Fresh beer is added to give the beer brightness and freshness that is lost in the barrel aging process. It takes much longer to make the beer this way, because it has to be aged much longer. We think the complexity and contrasting of the flavors is the key to Silva Stout.

Mike Hinkley
Founder
Green Flash
We also asked if Silva Stout and Flander's Drive will be brewery only or will it hit limited distribution. We were told it may hit limited distribution.