Deschutes Releases New "Hop in the Dark" Cascadian Dark Ale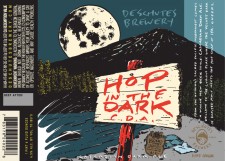 New "Black I.P.A." style beer has been under development for more than one year
Bend, Oregon – What takes 22 brews and more than a year of experiments to reach perfection? Deschutes Brewery's newest Bond Street Series release: Hop in the Dark Cascadian Dark Ale (C.D.A.). C.D.A. is a new style of beer that emerged recently in the Pacific Northwest, more widely known as a Black I.P.A. There has been a significant movement and debate in the region to call the style C.D.A., and Deschutes Brewery leads the way with Hop in the Dark.
This ominous looking liquid combines prominent Northwest hops with roasted malts to create a black tinted India Pale Ale type beer.  Hop in the Dark aromas come from Cascade, Amarillo, Citra and Centennial hops that float over a gentle undercurrent of velvet malt complexities.
"We've been serving renditions of this beer in both our Bend and Portland pubs for over a year, experimenting on our customers as we perfected the recipe," said Brewmaster Larry Sidor. "This beer has subtle coffee undertones born from a blend of oats with dark, Munich and crystal malts. Classic IPA flavors and aromas are due to courageous additions of various hops."
Hop in the Dark is the latest to join Deschutes Brewery's Bond Street Series, which originally rose up from the hundreds of beers the brewery has tried out on friends and critics at the Downtown Bend Pub. These local favorites, old and new, are brewed in small batches a few times a year, displaying Deschutes Brewery's diversity and creativity.
Deschutes Brewery invites beer lovers to take the plunge – a hop, if you will – into this new Dark Cascadian Ale. Many may never even try to swim for shore. Available across the western U.S. in 22 oz bottles and on draft from late May through September.
About Deschutes Brewery
Located in beautiful Bend, Oregon, Deschutes Brewery is in the business of daring people to expect more from their beer. That's why we started off in 1988, on the banks of the Deschutes River here in Bend, Oregon, by selling Black Butte Porter at a time when others were sure a dark beer would never catch on. Our brewers love to push the envelope, especially if it makes someone nervous.  But for us, the highest praise is a raised glass and a toast of "Bravely Done!"  For more information about Deschutes Brewery and its courageously crafted beers, please visit www.DeschutesBrewery.com.