Deschutes Releases First Class Of '88 Collaboration Beer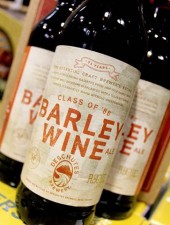 Class of '88 Barley Wine is the first beer in the series, brewed by Deschutes Brewery, North Coast Brewing Co. and Rogue Ales to celebrate their shared 25th anniversary
Bend, OR – Deschutes Brewery, North Coast Brewing Company and Rogue Ales have teamed up to create a traditional barley wine as the first in Deschutes Brewery's Class of '88 collaboration series. The series will include a number of commemorative beers to celebrate the 25thanniversary of craft breweries around the country that were founded in 1988.
The Class of '88 Barley Wine was based on the guidelines published in renowned beer connoisseur Fred Eckhardt's The Essentials of Beer Style, which was originally published in 1988. Each of the three breweries working on the project brewed their own interpretation of that original recipe.  The three resulting barley wines have a common heritage and ingredients, and brewers from Deschutes Brewery, North Coast Brewing Company and Rogue Ales teamed up at each respective location to brew the beer(s).
"Working collaboratively to create this barley wine has been an adventure for all of us," said Cam O'Connor, brewmaster for Deschutes Brewery. He spent time at both Rogue and North Coast as they brewed their versions of the beer together. "Sharing ideas and partnering to celebrate this landmark date in our shared histories promises to result in some extraordinary beer. The best part of the process, for me, was the camaraderie experienced spending time at each other's facilities."
The three beers will differ from brewery to brewery, as they each used different hops and malts while following the same stylistic guidelines. Deschutes Brewery's version of the Barley Wine was brewed with some hop varieties that existed back in 1988, along with some Mosiacs thrown in for fun. Release events are being planned for the third week in April when a limited amount of 22-ounce bottles will be made available to the public. Deschutes Brewery will have a limited release of bottles to only part of its regular distribution area. ABV: 10% IBUs: 70
Other planned brews in the Deschutes Brewery Class of '88 series include a Smoked Imperial Porter with Great Lakes Brewing Company out of Cleveland and a Belgian-Style Strong Golden Ale with Chicago's Goose Island Beer Company.
About Deschutes Brewery
Founded in 1988 as a brew pub in downtown Bend, Oregon, Deschutes Brewery is known for such brands as Black Butte Porter, its flagship brew and the nation's number one selling craft porter, and the popular Mirror Pond Pale Ale. In addition to its original Bend pub, the brewery opened a second pub in Portland's Pearl District in 2008. The company's main brewing facility is located in Bend's Old Mill District and produces more than 250,000 barrels of beer annually for distribution in 20 states and two provinces. To find out more, visit www.DeschutesBrewery.com.
About North Coast Brewing Co.
A pioneer in the craft beer movement, North Coast Brewing Company opened in 1988 as a local brewpub in the historic town of Fort Bragg, located on California's Mendocino Coast. Under the leadership of Brewmaster Mark Ruedrich, the brewery has developed a strong reputation for quality having won more than 70 awards in national and international competitions. In addition to Red Seal Ale, Old Rasputin Russian Imperial Stout, Scrimshaw Pilsner, and other fine North Coast brands, the brewery has resurrected the old Acme label with a heritage dating back to the San Francisco of the 1860s. These exceptional beers are available in 47 states now and also are exported to Europe and the Pacific Rim.
About Rogue Ales
Rogue Ales & Spirits is an artisan varietal brewery and distillery founded in Oregon in 1988, as one of America's first 50 microbreweries. Rogue has won over 1000 awards for taste and quality and is available in all 50 states and 32 countries. Since 2008, Rogue has remained committed to saving the terroir of Oregon hops and barley, one acre at a time, by growing their own.