Crooked Stave – Colorado WildSage & Nightmare on Brett Aged in Wine Barrels Release Details
(Denver, CO) – On Wednesday, May 20, Crooked Stave will release, for the first time, bottles of Colorado WildSage as well as a limited taproom-only release of Nightmare on Brett aged in Red Wine Barrels. Both releases will take place at the taproom (3350 Brighton Blvd) at 6:00 p.m. MST.
Colorado WildSage (7.2% ABV) was brewed with Colorado in mind as a Saison, which embodies the high altitude Rocky Mountains. The raw materials were sourced throughout Colorado, including fresh white sage and lemongrass foraged from the Rocky Mountains.
"Colorado holds a special place in all of our hearts at Crooked Stave. I grew up here as did many of our employees," said Chad Yakobson, Crooked Stave Owner/Head Brewer. "We have been wanting to put Colorado in a bottle for a while now, but we wanted to do it right. We are very fortunate to have local maltings, local hops, local yeast, and a great source for local herbs and spices. Using Colorado ingredients and a little fresh mountain sage, this beer is a tribute to the great place we all choose to call home."
In conjunction with the release of Colorado WildSage on Wednesday, May 20, Crooked Stave will also hold a taproom-only release of Nightmare on Brett aged in Red Wine barrels. While this is the fourth batch of Crooked Stave's Nightmare on Brett Dark Sour ale, this marks the first time the beer has been released after aging only in Red Wine barrels.
"We don't typically age Nightmare on Brett in wine barrels, in fact the flavor profile is built to be aged in whiskey casks," said Yakobson. "After we aged a small portion in Port casks last year, we decided to fill a few Red Wine barrels to see how it would pair. The results are very much Nightmare on Brett, but with a red wine twang to it."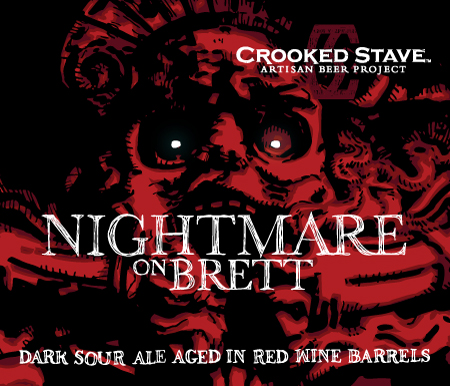 For the fourth batch of Nightmare on Brett (9.666% ABV), Crooked Stave aged its Dark base beer in a large oak foeder and later in Red wine casks for 12+ months with the brewery's mixed culture of wild yeast and bacteria.
About Crooked Stave Artisan Beer Project
Crooked Stave is the culmination of "Founder and Brettanomyces Guru" Chad Yakobson's open source Master's research, The Brettanomyces Project. Crooked Stave's progressive approach to brewing blends science and art through creativi