Creature Comforts / 7venth Sun Southerly Love Returns
(ATHENS, GA) – Creature Comforts Brewing Company's first collaboration with 7venth Sun Brewery, Southerly Love, will make its return this January. The limited offering will be rereleased on draft and in 750-mL bottles at the brewery in Athens.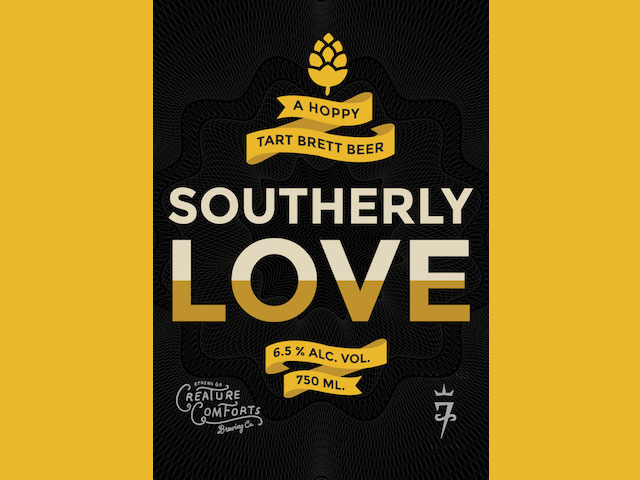 Southerly Love is an American Wild Ale that comes in at 6.4-percent ABV. The 2017 release of the beer features Idaho 7, Cascade and Crystal hops. The aroma is complex and full of ripe papaya, tangerine and a light, yeasty funk. The flavor is characterized by a balanced acidity and tropical fruit notes.
"We used a solid dose of funky, tropical and aromatic hops, both in the brewhouse and as a dry hop, to add complexity and intrigue to the beer," said Co-Founder and Brewmaster Adam Beauchamp. "The result was a synthesis of yeast and hop flavors, melded into a balanced, cohesive and just plain delicious beer."
The beer was originally brewed in June 2014 as Creature Comfort's first collaboration beer shortly after opening the brewery in April 2014. The brewery chose Dunedin, Florida's 7venth Sun to work with on the collaborative brew.
"Brewing with friends is one of the most rewarding parts of my job," said Beauchamp. "Justin and Devon of 7venth Sun are passionate and talented brewers who I also consider to be a couple of my best friends, so naturally we chose to work with them for our first collaboration project."
The label artwork is a nod to the hoppiness of the beer and was designed by University of Georgia Scientific Illustration Student Katie Schmidt.
Southerly Love will be available on-site at Creature Comforts on January 17. For more information on 7venth Sun Brewery visit www.7venthsun.com. For more information on Creature Comforts Brewing Company visit www.creaturecomfortsbeer.com.
ABOUT CREATURE COMFORTS BREWING COMPANY: Creature Comforts is an Athens, Georgia based brewery offering finely balanced artisanal beers. Since opening its doors in April 2014, Creature Comforts has made an imprint in the craft beer community with its award-winning, year-round and special release beers. To learn more about Creature Comforts, contact [email protected] or visit us online at www.creaturecomfortsbeer.com.