CraftHaus Brewery Releases Two New Beers In Cans for 2017
(Las Vegas, NV) – CraftHaus Brewery fills out their portfolio of canned beers by adding two more styles to their line-up. Belgard, a coffee stout, which features locally roasted coffee and Centerpiece, a sour Belgian table beer join their already established canned offerings: Evocation, Saison and Resinate, IPA.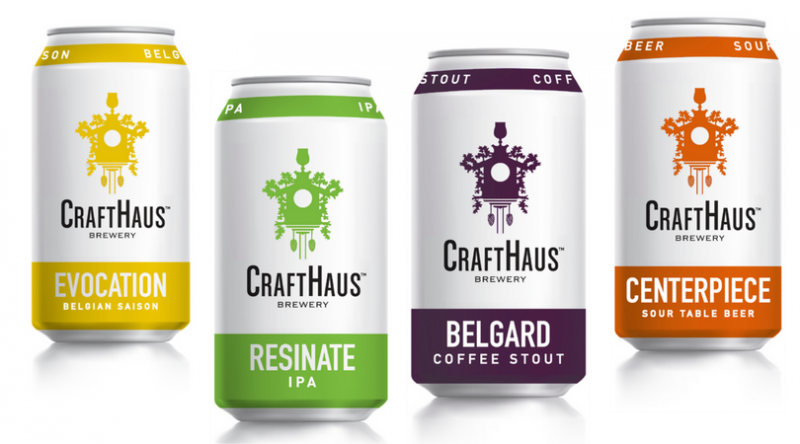 CraftHaus Brewery has seen over seventy percent growth in 2016 and adding more package options aims to answer that demand. "Our local market is growing right along with us. We love to see their pallets change and evolve. This is why we chose to offer a seasonal sour." Wyndee Forrest, Co-Owner.
Distribution has already rolled out to Clark County, with many locations on the Las Vegas Strip. "Now, visitors can request a local, craft beer and have much more options." Dave Forrest, Co-Owner. Distribution, in partnership with Bonanza Beverage, has always been locally focused. This includes the diverse make up of forty million annual visitors to Las Vegas.
The addition of Belgard, coffee stout fills in the need for a malt forward beer. This beer also echoes a commitment to support local by utilizing a locally roasted coffee from Vest Coffee Roasters. Packaging has been changed from sixteen-ounce format to twelve-ounce format. Centerpiece is a soured beer, which will be available during the fall and winter. Then, the seasonal sour will transition to Zitrone, Gose for the spring and summer months.
About CraftHaus Brewery
CraftHaus Brewery is passionate about creating quality driven beers and sharing them with their community. Owners, Wyndee and Dave Forrest spent over a year and a half lobbying and changing licensing for the city of Henderson to a more craft friendly license. Their brew team is lead by educated, professional brewers, Steve Brockman and Steph Cope. CraftHaus was established September 2014. In two years of operation, the brewery has been awarded: "Top 100 Businesses Coast to Coast 2016" Yelp, The Las Vegas Weekly "Most Creative Brewery of 2016." Nevada Business Magazine named CraftHaus Brewery, "Best Family Owned Business in 2016." Mayor of Henderson, Mr. Andy Hafen, presented the brewery a proclamation thanking CraftHaus for the work they did to bring the craft beer industry to their city.
www.crafthausbrewery.com – @crafthausbrew – facebook