Craft Beer News Roundup: Smuttynose, Moylans, Hangar 24, Alpine and Twisted Pine!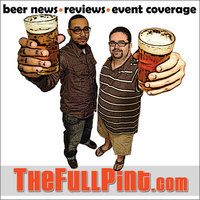 The Full Pint runs down a few pieces of interesting craft beer news from the likes of Smuttynose, Moylans,Hangar 24, Alpine Beer Co and Twisted Pine. Enjoy!
Smuttynose – They are beginning to ship out 2010 Wheat Wine this week.  It's the last Big Beer for the year and will be on hiatus for next year. Stock up now folks.
They're also adding a new beer to the Big Beer Series.  Originally called "The Gnome," this hoppy Belgian trippel was the first beer from our Short Batch Series and is also the first beer to graduate from that limited, draft-only line to the Big Beer Series.  Here are Dave's original brewer's notes from 2007 http://smuttynose.blogspot.com/2007/01/short-batch-gnome.html
Moylans – The Full Pint crew was kickin live at 38 Degrees in Alhambra, and were pleasantly surprised to find Ryan Sullivan Stout Aged in Port Wine Barrels. We were so happy and suprised, we sent Moylan's a quick thank you note for sending such a rare treat down to the LA area.  They sent back a "your welcome" note with this great news for people who are in the El Dorado distribution territory. Moylan's sent out 20 small kegs of Port Wine Barrel and Wild Turkey Whiskey Barrel Aged versions of Ryan Sullivan, so get it while you can.
Hangar 24 – Hangar 24 is brewing a new beer in anticipation of the opening of our new Patio/Beer Garden.  The beer will be titled "Patio Beer" and will be a hoppy session ale.  It is 4% alcohol but packs the flavor and aroma of an IPA.  We use a blend of Columbus, Centennial, Chinook and Citra hops to achieve an intense citrus and pine hop aroma with flavors of grapefruit, orange peel and lemon zest.  Definitely great for relaxing on the patio and putting down a couple. The Patio Beer is set to be released on draft at the grand opening of the Hangar 24 Patio/Beer Garden on Saturday, January 15th.
Alpine Beer Co. – They have just released an Imperial Stout called "Odin's Raven." Its 10% abv, thick and rich with hints of chocolate. They're  only filling growlers at the brewery and serving 10 oz., or smaller, pours at the pub. Get it while you can.
Twisted Pine – Twisted Pine just began distribution into Nebraska and should be hitting the shelves this week.  We will also be making our first shipment to Florida in mid January.