Craft Beer News Roundup: Shipyard, Lonerider, Green Man Brewing and Trinity Brewing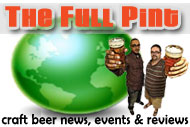 Here's the latest edition of craft beer news roundup. Very important but small news bits from old favorite and new craft breweries nation-wide.  Learn what's going on with Shipyard, Lonerider, Green Man and Trinity Brewing. Cheers
Shipyard Brewing – Melonhead has officially made its debut as the newest addition to our seasonal lineup of headless horsemen ales. At 4.4% ABV this beer has a refreshing essence of juicy watermelon on the nose and a crisp wheat ale finish.
Check out our beer finder to locate you nearest Melonhead and let us know what you think!
Lonerider Brewing – Bottling the next release in our "Most Wanted" series. Hangman Barley Wine Ale.  https://vine.co/v/b95PEgVEPhb 
Green Man Brewing –
Coming Soon:
Red Barcetta: is our salute to Rush getting into the rock and roll hall of fame (finally!). It's a west coast style red ale with a deep, complex caramel flavor balanced with a firm hop character. Massively dry hopped with Chinook hops for a piney, citrus aroma. 7.1% ABV
Mikey's Big Mouth: is the first in our "Cease and Desist" series, it is a craft brew's take on the much maligned malt liquor style. We class it up with an addition of honey and Sterling dry hops. It is still a boozer so drink with care! 7.5% ABV
Blanche Du Vert: is a traditional Belgian wit brewed with coriander, dried lemon and orange peel and secret spices. A classic summer refresher 5% ABV
Trinity Brewing – Wednesday's "The Giving Beer" non profit this week is the MS Society and Team Toadstar. It starts at 5:30 PM and runs through 7:30 PM, and $1.00 from every Trinity beer sold will go to this great program!
Come out and enjoy some amazing beers while supporting our community!
http://www.nationalmssociety.org/index.aspx
http://main.nationalmssociety.org/site/TR?pg=team&fr_id=20901&team_id=322970