Clipper City Real Ale Fest Coverage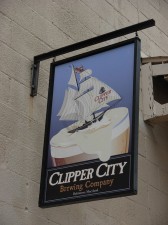 A couple of weeks ago I had the privilege of attending the Clipper City real Ale fest at their brewery southwest of Baltimore, MD. This was a great experience and there was some absolutely fantastic beer and BBQ here. This was my first trip to the brewery, although I had driven past it several times before. Just inside the door is a small reception area with a few picnic tables and a bar with a couple of taps. Clipper City merchandise is available along the outer walls.
When I arrived, the event was already in full-swing. The tables were packed with people laughing and talking. At the bar was the first special firkin. It was the Peg Leg Stout, to which Simcoe and Fuggle hops, Indian monsoon coffee (to go with the Heavy Seas theme) and French oak chips were added. From the bottle, this is a great stout, but the additions push it over the top. It was full-bodied, hoppy, bitter, sweet and creamy all at once.
As you walk down the hall you can take a peek into the "lab" where different recipes are tried. A little way further and you've made your way into the main brewery. Just on the left is another tasting station with another couple of firkins. Here we had the Red Sky at Night Saison Ale, to which Simcoe hops, orange, lemon and lime peel, coriander and other spices were added, and the Loose Cannon Hop3 Ale, to which Simcoe, palisade and Cascade hops were added. I'm not really big on Saison, but this was really good. It was smooth, though not quite creamy, yet finished dry and refreshing when the citrus notes came through. The Loose Cannon is usually my favorite beer from Clipper City and this firkin just cemented that*. This was just rich and satisfying in every way. A slightly creamy body and a bit of nougat sweetness gives way to huge hops on the finish.
Loathe though I was to leave this station, I rounded the corner and went to one that had two more firkins. Here were the Pale Ale, to which Cascade hops were added, and Gold Ale. The Pale Ale was excellent and more hoppy than its bottled counterpart. The Gold Ale was very good, but it's not as hoppy as I like my beers. If you've got someone who is a craft beer novice, this is a great starter beer. It doesn't have the bitterness that many people associate with beers not made by Anheuser Busch or MillerCoors, yet has much more flavor and body.
I decided to pass on the Holy Sheet because I'm just not a fan of Belgian-Style ales. Somehow I missed the Organic Amber.
I then his the BBQ stand. This was catered by Andy Nelson's BBQ. Wow! Everything was outstanding. The pulled pork was without sauce and you could add whichever one you wanted from a selection of styles; I believe I chose the Alabama. The ribs were falling off the bone and the potato salad a standout.
Now we come to the greatest part of the tour. The special sneak preview of the Big Dipa Double IPA and Little Dipa Double IPA. First, I had the Little Dipa. It was in a firkin that had Cascade and Amarillo hops added to it. It was only 6% ABV, so I'm not really sure why it's called a Double IPA, but it was fantastic nonetheless. It was smooth and silky with a nice big hop finish, and at 6% won't hurt you too badly if you overindulge. The Big Dipa, on the other hand, will destroy you at 10%. This is velvet in a glass and I'd place it in my personal top 3 Double IPAs. From start to finish, it has a luscious texture and an almost wine-like boquet. The aroma had plenty of caramel and butter cream, but there were delicate hints of flowers, as well. I predict much overindulgence in my future with 22oz bottles of this beer. The only downside was that these were both limited to one taste per person.
As for the rest of the beers, you could get them all as you would normally get them on tap in a bar or restaurant as well as from the special firkins. And it was all you could drink and eat. There was also some live entertainment, but I passed on that. I highly recommend this event for anyone who is serious about beer and wants to taste all of your favorite Clipper City brands taken up to the next level.