Cigar City Releases HomeFront IPA and One Percenter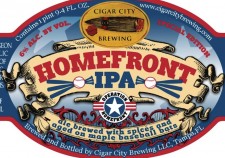 Cigar City Brewing of Tampa, FL released a very interesting Berlinerweiss called The One Percenter, from a really nice dude I trade with on ratebeer.com, Gary Kost.  Also this Thursday they will be releasing Home Front IPA.  Read on for more details about these beers.
"The One Percenter  is a 1% ABV berliner weisse fermented with peaches and mangos. This beer was brewed to celebrate the accomplishments of local CCB celebrity Gary Kost, who is closing in on 300 ratings of Cigar City beers on RateBeer.com. As far as we can tell, no one else in the world has rated more beers from one brewery than Gary. Time to get a life, Gary."
Home Front IPA
Thursday we're releasing (officially) Homefront IPA in the tasting room. This beer was brewed for a great cause. Find out more at HopsForHeroes.com. Join us, along withFremont Brewing Company, Saint Arnold Brewing Company,Perennial Artisan Ales, SLY FOX BEER, and 21st Amendment Brewery, as we celebrate together! http://hopsforheroes.com/
If you notice on the label, it is a spiced IPA aged on Maple Baseball bats.  Cigar City has lost there minds. ISO!!