Chris Banker Stone Insurgente Xocoveza Mocha Stout Details
(Escondido,CA) – Stone Brewing Co. is releasing their annual AHA Homebrew rally contest winning beer in a few weeks, and by the description, it's an 8% adjunct stout named Chris Baker Stone Insurgente Xocoveza Mocha Stout. I mean adjunct stout in the kindest way possible, in line with darlings Hunahpu, Mexican Cake, Abraxas and Bomb! Stay tuned for the official press release and tasting notes. Cheers!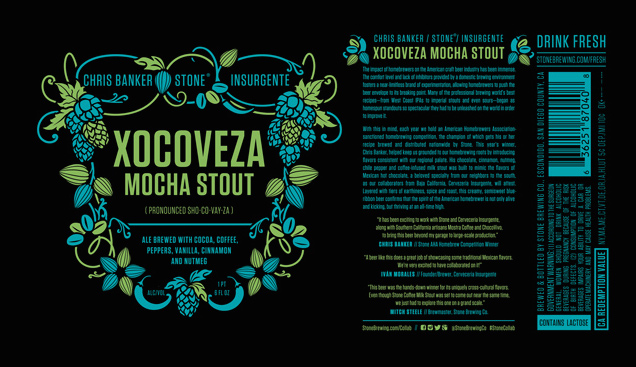 Commercial Description
"This year's American Homebrewers Association winner, Chris Banker, helped keep us grounded to our homebrewing roots by introducing flavors consistent with our regional palate. His chocolate, cinnamon, nutmeg, chile pepper and coffee-infused milk stout was built to mimic the flavors of Mexican hot chocolate, a beloved specialty from our neighbors to the south, as our callaborators from Baja California, Cervezeria Insurgente, will attest. Layered with tiers of earthiness, spice and roast, this creamy, semisweet blue-ribbon beer confirms that the spirit of the American homebrewer is not only alive and kicking, but thriving on an all-time high."
Preliminary Details
– Pronounced Sho-Co-Vay-Za
– Made with Mostra Coffee
– This is the winning beer at Stone's Annual Homebrew Competition and AHA Rally on March 15, 2014. Previous winning beers have been entered into the GABF Pro-Am Competition.
– 8% abv.
-Should be widely available on September 8, 2014
– 22 oz. bottles, 1/6 bbl, 1/2 bbl format