Your Chance To Vote On Ommegang's Next Game Of Thrones Beer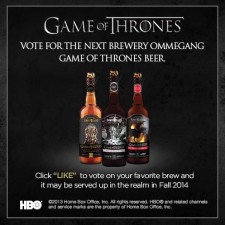 We're getting back to our roots and we're excited to brew a true, Belgian-style ale! What will be the next Game of Thrones beer? To find out, you'll have to ask the fans!
Game of Thrones and craft beer fans have let their opinion be heard and they love the series of Game of Thrones inspired beers, selling out the Iron Throne Blonde Ale and Take the Black Stout in record numbers. Enthusiasm for the launch of the third beer, Fire & Blood (due end of March 2014), is also heating up.
To thank fans for their amazing support HBO Global Licensing and Brewery Ommegang are giving them the chance to help decide the name and style of the fourth beer in the series to launch fall of 2014!
Starting today fans can log onto https://www.facebook.com/GameOfThrones and vote among four great options:
Valar Morghulis – Dubbel
Valar Morghulis is an Old Valyrian saying closely associated with the desire 

for vengeance. Thus, a Belgian-style Dubbel was chosen to capture the sweetness 

of revenge as well as the dangerous consequences that come with it.
Hand of the King – Quadrupel
The responsibility of running a kingdom can only be matched by the complexity of a 

Belgian-style Quadrupel ale. Rich in flavor and dark in color, a Quad is the perfect 

companion for waging war, brokering peace, or enduring a Small Council meeting.

Seven Kingdoms – Tripel
The golden Tripel is the universally agreed pinnacle of Belgian brewing achievement, 

making it the perfect beer to represent the legacy of the Seven Kingdoms. Though 

supremely drinkable, the Tripel comes with a spicy character that represents the 

sordid events of the history of Westeros.

Khal – Quadrupel
The Dothraki people, like the Belgian-style Quad, are the strongest of the strong and 

Boldest of the bold. Quads rest atop the pyramid of Belgain beer because of 

their strength, so this style makes a fitting tribute to the men that rule the mighty 

Khalisars of Essos.
The voting will be open for 2 days. The selection with the most votes along with the artwork for the label will officially be announced in the spring.