Cascade Brewing – Updates on Sour Ale Bottle Releases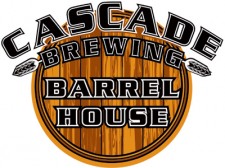 Cascade Brewing in Portland, OR updates us on whats whens and how you can get your hands on some of their hand crafted sour ales including Sang Royal, Apricot and Kriek. Cheers!
Exciting news – last week, we bottled both 2010 Sang Royal and 2010 Apricot.  They are in the conditioning room and we'll have an update on their release in a month.  Even better news, both are now on tap at the Barrel House!  2010 Sang Royal is a NW style sour ale made with red and double red beers. Cabernet Sauvignon grapes were blended in and the beer was then aged between 12 and 24 months in Port, Pinot Noir and Cabernet Sauvignon oak barrels.  Huge aromas of deep rich fruit, Port, oak and tart cherries with dark toasted malt greet the nose, while sour cherries, dark plums, Port, vintage wine and soft oak notes linger on the palate. The beer finishes with a crisp effervescence of dark fruit and black currants, tobacco and Port – $6.50 a glass.
2010 Apricot Ale is a NW style sour ale made with blondes, strong blondes and tripels that were barrel aged between six and 12 months before aging on the fruit for an additional eight months.  Fresh apricot fruit and blossoms greet you on the nose, followed by sharp, sweet tangerine zest.  Tart apricot flesh and big malts are followed by subtle hints of toasted apricot pits that transition into a sparkling citrus zest with a lingering dry finish – $6 a glass.
Kriek '10 is now available in bottles.  This Northwest sour style red ale is aged on a blend of tart sour pie and Bing cherries from the 2010 growing season.  The Bing cherries impart deep, rich currant and dark cherry flavors on the nose.  Sharp sour cherry notes, cinnamon and a hint of toasted almonds on the palate hail from the sour pie cherries. Bright sharp flavors of deep rich fruit give way to a lingering sourness in the finish. Bottles sell for $16 and are available at the Barrel House, the Raccoon Lodge and online at www.cascadebrewingbarrelhouse.com.
PTFC! The Portland Timbers are off to a great start this season, and there's no better beer to drink for a pre-function or while watching the game than Portland Ale, our tribute to mascot Timber Jim.  An American style pale ale, Portland Ale features a combination of German Pilsner and Noble aromatic hops for a light bodied, straw colored, easy drinking ale.  It's on sale at both the Cascade Barrel House (which is showing all Timber games) and the Raccoon Lodge for $4.25 a bottle, or $48 a case ($1 per case will be donated to Harper's Playground in the name of the Timbers Army 107ists).  Stock up now, this won't last though the season!