Cantroversial Oskar Blues Building Project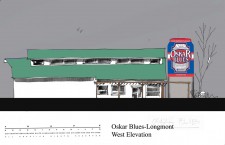 Longmont, CO – Our plans for outdoor art at our upcoming new restaurant in Longmont have created a "cantroversy."
As you may know, we're taking over the abandoned Silo Restaurant at the southwest entrance to Longmont.
We're turning it into a new place – Oskar Blues Homemade Liquids & Solids – that'll feature our famed comfort food, live music, and 30 taps of beer from us and other craft brewers. We aim to open there in early August.
Part of our renovation includes painting the namesake silo on the property to resemble a can of beer. Similar to other "cans" around the nation, some of which have become icons in their communities.
The concept has stoked a great deal of conversation among Longmont residents and city officials. Here's a link to a readers poll regarding the can art in Longmont's fine daily newspaper, the Longmont Times-Call.
We have just received approval from Longmont officials for a variance we requested that allows us to paint the silo. It will resemble a Dale's can, but with "Oskar Blues" in place of "Dale's Pale Ale." (The city wouldn't approve the full-fledged Dale's Pale Ale can art because it violated a piece of the sign ordinance.)
It'll be 25 feet tall. We're removing the 'cap' of the silo for more of a true can look.
We're very glad to get this approval, along with a hearty endorsement for the project from the Times-Call editorial board.
Here's one more Times-Call piece (from July 4) on the Oskar Blues silo, its original builder, and other giant "cans" in the US: Link