The Bruery Shares Expansion News – Increases Capacity to 20k Bbls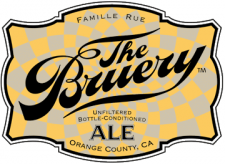 (Placentia, CA) – The Bruery is excited and proud to officially announce their upcoming quality & efficiency improvements over the next year that will pave the way for substantially more, and substantially higher quality, beer in 2015 and beyond.
The Bruery has purchased a Krones 16-head Kosme bottling line that is set to ship in early June 2014.  This top-of-the-line machine will reduce dissolved oxygen in The Bruery's bottled beers to 10-15 times lower than current levels, assure consistent fill heights, significantly reduce waste, and run over 5 times faster than their current Meheen fillers.
The Bruery will be receiving a GEA Westfalia Centrifuge.  This separator will clarify beer prior to bottling, kegging or racking into a barrel while maintaining flavor and aroma.  This will result in clearer packaged beer, better control over brewing and packaging schedules, and reduced loss.
The Bruery will be retiring their manual 15-barrel brewhouse from the 1980's in favor of a semi-automated GEA Huppmann Craft-Star brewhouse.  This craft-focused brewhouse is a first for GEA, which typically manufacturers 150-barrel plus systems, and integrates technology that only larger breweries could previously afford.  Its flexible capacity will allow The Bruery to brew between 20 and 35 barrels of wort per batch, a great quality given the variety of beers that The Bruery makes.
"The overall goal behind this expansion is to improve quality," says The Bruery founder Patrick Rue.  "As part of that goal, we'll also be moving and expanding our lab space, as well as completely separating our sour/brett and clean beer production."
These changes will increase The Bruery's capacity to just over 20,000 bbls.
About The Bruery
The Bruery is a boutique craft brewery located in Orange County, CA that specializes in experimental and barrel aged ales.  Founded in 2008 by Patrick Rue, The Bruery produces over 50 different beers annually, with 15 seeing national distribution throughout their 24 state network of distributors.  The Bruery also runs several 'beer clubs' including The Preservation SocietySM and the Reserve SocietySM.