Brown Distributing Named 2012 Craft Beer Distributor of the Year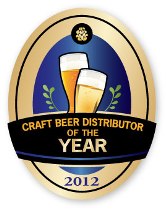 The National Beer Wholesalers Association (NBWA) and the Brewers Association (BA) are pleased to announce that Brown Distributing Company, based in West Palm Beach, Florida, has been named the 2012 Craft Beer Distributor of the Year. The Craft Beer Distributor of the Year Award, now in its sixth year, recognizes the beer distributor who does the most to market, promote and sell craft beer. NBWA and BA presented the award jointly on October 13 at the Great American Beer Festival® in Denver, Colorado.
Brown Distributing Company, a family-run Florida company for more than 90 years, has evolved into a craft beer powerhouse, distributing beer from 64 craft breweries to nearly 4,000 retail accounts throughout the state. Over the past 12 months, the company has achieved a 76% increase in craft beer sales volume.
Brown's efforts to promote craft beer include social media engagement that helps improve customer relationships and a website that educates consumers through such features as an interactive distribution map, brewer profiles, an events calendar, frequent blog posts by staff and a client and customer newsletter. The company also launched a "Drink like a local" campaign that encourages retailers and consumers to support local beers and educates and promotes all of the breweries that are helping drive craft beer culture in the state of Florida. Brown also works aggressively to introduce craft beer into new occasions by participating in events such as chocolate festivals, wine events and even mango festivals.
DeCrescente Distributing Company of Mechanicville, New York, was honored with the Craft Beer Distributor Achievement Award, and Tryon Distributing of Charlotte, North Carolina, received the Craft Beer Distributor Recognition Award.
"The entrepreneurial spirit of craft brewers continues to add energy and excitement to the American beer industry, and beer distributors take great pride in serving as the vehicle to market for these brands," said NBWA President & CEO Craig Purser. "NBWA is proud to recognize Brown Distributing Company, DeCrescente Distributing Company and Tryon Distributing for their role in strengthening the craft beer segment and bringing American consumers the most extensive choice and variety of beer in the world. The craft beer category continues to grow at double digit rates thanks in part to the strong relationship between craft brewers and beer distributors."
Brewers Association President Charlie Papazian added, "Beer distributors like Brown Distributing Company, DeCrescente Distributing Company and Tryon Distributing are providing a valuable service by giving craft brewers a presence in the marketplace. These awards recognize the creativity, innovation and specialized services independent beer distributors are providing on behalf of small and independent craft brewers."
http://nbwa.org/industry-tech/craft-beer-distributor-of-the-year-award
About Brown Distributing Company's Specialty Division: Brown Distributing Company has been family owned and since 1919. Its Specialty Division has operational bases in Orlando and West Palm Beach, and is focused on being the premier statewide distributor of artisanal beverages with sales of over 1 million cases annually. Its mission is to foster craft beer culture through consumer education and interaction while focusing on its Florida first initiatives.