Bridgeport Brewing Brings Home Gold From European Beer Star Awards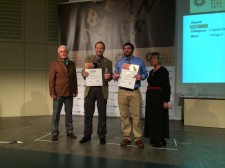 Portland, OR – BridgePort Brewing Company, Oregon's oldest craft brewery, announced today that Trilogy 3 Brewers' Class, the final beer in Bridgeport's 30 year anniversary series, won Gold at The European Beer Star award. Conceived as a sessionable brown ale, Trilogy 3 Brewers' Class was jointly designed by students enrolled in the Fermentation Science Program at Oregon State University, program director Dr. Thomas Shellhammer, and BridgePort brewmaster Jeff Edgerton.
"As an Oregon State alum, I jumped at the opportunity to partner with these students to create Trilogy 3 Brewers' Class," comments BridgePort Brewmaster, Jeff Edgerton. "When we were coming up with ideas for the beer, I couldn't help but think about how the future of brewing in Oregon, and in the United States, was likely in that room. We've known it was a world-class beer all along the way, but it's great to be validated by a committee of international experts."
This year's European Beer Star tasting competition held in Gräfelfing, Germany attracted 1,613 entries, from 42 countries. Judged by a 105-person jury consisting of master brewers, beer sommeliers and recognized beer experts; each beer was judged based on color, aroma, taste aroma profile and general impression.
BridgePort fans still have a chance to try Trilogy 3 Brewers' Class on its own or in the Voter's Box Variety Pack alongside the other two contenders. Fans have had the chance vote for their favorite beer in the Trilogy Series over the past months and a winner will be announced in late November. For more information, visit www.bridgeporttrilogy.com.
About European Beer Star
European Beer Star was held for the eleventh time this year, sporting a reputation for being one of the most important beer competitions worldwide. For more information and a complete list of medal recipients, visit www.european-beer-star.com
About BridgePort Brewing Company
Celebrating 30 years in 2014, Oregon's oldest craft brewery continues to evolve from a microbrewery to a regional leader committed to producing high quality craft ales. Lead by Brewmaster Jeff Edgerton, the team of BridgePort brewers prides itself on using hops from an hour away and clear glacial water from Mount Hood. The BridgePort family of ales includes the Trilogy Series, IPA, Hop Czar IPA, and Kingpin. BridgePort Brewery is located at 1313 N.W. Marshall.
www.bridgeportbrew.com – @bridgeportbrew – facebook