BrewDog Sink The Bismark – The Strong Beer War Continues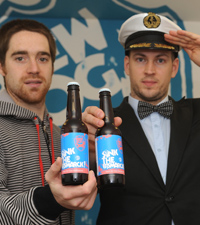 TFP Exclusive – BrewDog Wages War Against German Beer Brand, Schorschbräu, With The Launch Of New 41% Beer "Sink The Bismarck!" Below, we catch up with James Watt, finding out what he thinks of the rumor Schorschbräu wants to take their beer to 45% abv!!

Maverick brewer, Brewdog has snatched victory from the jaws of defeat as it reclaims the title of 'brewer of the world's strongest beer' from its German competitors, with a 41% ABV beer controversially named 'Sink the Bismarck!'.
Just two weeks after German brewers, Schorschbräu, released its 40% ABV brew, Schorschbock, Brewdog, one of the UK's leading independent breweries responsible for cult beers including Punk IPA, has hit back with this amplified IPA as they reclaim the world record – and national pride.
James said: 'In true BrewDog fashion we've torn up convention, blurred distinctions and pushed brewing to its limits with this audacious amplified ale. With Sink the Bismarck!, we have created a liquid which takes beer to a whole new level. We also wanted to reclaim our world record from the Germans who killed our Penguin. We will fight them in the mash tuns, we will fight them in the fermentation tanks, by golly we'll physically get into the freezers and fight them there if we have to.
At £40 for a 330ml a bottle, and only available via the Brewdog website, www.brewdog.com, Sink the Bismarck! is a quadruple IPA that contains four times the hops, four times the bitterness and is frozen four times to create a staggering 41% ABV, stronger than whisky and vodka.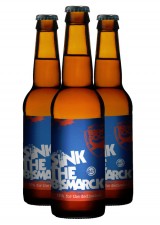 thefullpint.com: What is the deal with Schorschbräu?
James Watt, BrewDog: Not sure. It is all just friendly competition I guess. We are not really concerned with what they are doing. Our 41% beer was not a knee jerk reaction to something they launched 2 weeks ago but something we have been working on for 5 months now. We just decided to have a little bit of fun with the name and the video. They did contact us recently and try and sell us their method for making high ABV beers, we thought a nice response to that was to launch a 41% one!
tfp: How far in advance did you know they were going to come at you with 45% beer?
James: I am still not sure they are! I have not seen it yet. They seem to like announcing beers which they may make in the future when we announce strong beers. As far as I am concerned some results from a lab that a 45% beer may be possible (which we believe it to be to) is very different from having a beer on the market which people can buy.
tfp: By law, where does it end?
James: We will not go past 41%. This was about the beer and not the number. We wanted to make an IPA, which is our favourite beer style, with the same ABV as a whisky. Living in the North-East of Scotland we are constantly under the shadow of the whisky industry and we also huge whisky fans. We were fascinated by the idea of making an IPA of whisky ABV and that would be enjoyed in the same way as a top single malt. This beer has an insane nose. We hopped it to hell at every stage of the process. We kettle hop it, dry hop it, freeze hop it, then hop it again before we bottle it. It has an amazing nose and all the flavour components you would look for in an IPA, just with a huge alcohol hit! This is a project we have been working on for over 5 months now – the beer took forever to make but we feel the result is worth it!
tfp: Is there a number where BrewDog will stop at?
James: See answer to 3
tfp: Are you going to top the 45%
James: See answer to 3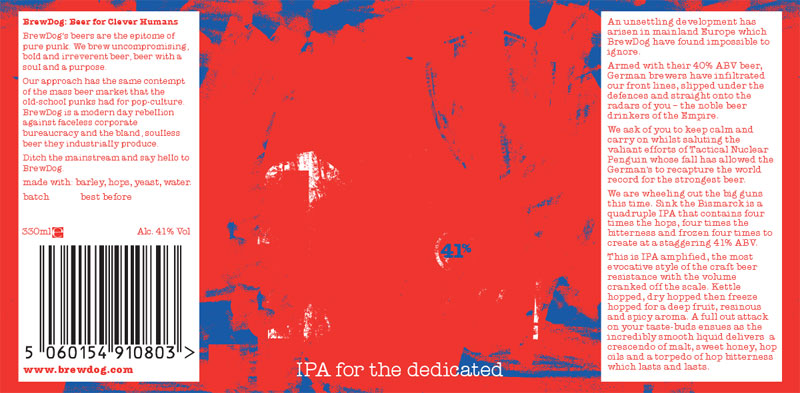 In November last year Brewdog tackled controversy head on as they faced criticism from alcohol awareness groups when they launched the 32% Tactical Nuclear Penguin, stealing the record from Germany's Schorschbräu and its 31% ABV beer. All 500 bottles sold out within days with a new batch due in March 2010.
Determined to keep pushing the boundaries in brewing and retain the world record, Brewdog MD James Watt and co-founder, and BrewMaster, Martin Dickie set about creating the 41% beer using the same technique that was used for Tactical Nuclear Penguin. The beer was put into containers and transported to the cold store of a local ice cream factory where it endured 21 days at penguin temperatures. Alcohol freezes at a lower temperature than water and as the beer got colder BrewDog Chief Engineer, Steven Sutherland decanted the beer periodically. Only ice was left in the container, creating more intensity of flavours and a stronger concentration of alcohol for the next phase of freezing. The process was repeated until it reached 41%. James and Martin decided to name the beer after the famous German Battleship, Bismarck in a reference to their ongoing battle with their European competitors.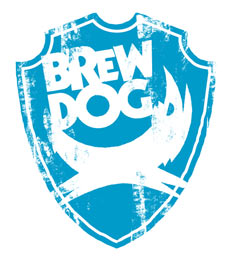 Known for their irreverent attitude, and with tongue firmly lodged in cheek, Brewdog has also created a video to launch Sink the Bismarck! which can be viewed on the BrewDog website at www.brewdog.com. Starring founders James, who is fluent in German, and his partner-in-crime Martin, the video shows the guys as a variety of characters including British WWII naval officers and lederhosen-wearing German brewers. The video goes onto show a German chasing a (tactical nuclear) penguin and killing the penguin with a malt shovel before the original BrewDog – Bracken (a real canine pooch) makes an obligatory appearance – in a Navy outfit complete with HMS BrewDog hat.
Speaking on the launch of Sink the Bismarck! James said: "This is the beginning of the craft beer revolution in the UK. We are doing all we can to promote a new and responsible approach to beers in this country. We want the public to learn to understand, appreciate and respect beer. At BrewDog we want to highlight a different approach to beer, one which focuses on quality ingredients and craftsmanship and not marketing budgets and volume sales and binge consumption. Many fall down the monolithic corporate brewers rabbit hole, we are on a mission to open as many people's eyes as we can. As a company responsible consumption and better education about beer is ingrained in all we do. Beer has a terrible reputation in Britain, it's ignorant to assume that a beer can't be enjoyed responsibly like a nice dram or a glass of fine wine. A beer like Sink the Bismarck! should be enjoyed in spirit sized measures.
"This is beer, amplified. With the volume turned full up, it is important you that you be careful with this beer and show it the same amount of sceptical, tentative respect you would show an international chess superstar, clown or gypsy."
He added: "God save the Queen."
In typical BrewDog style the label comes with a cheeky explanation of Sink the Bismarck's raison d'etre: "Armed with their 40% ABV beer, German brewers have infiltrated our front lines, slipped under the defences and straight onto the radars of you – the noble beer drinkers of the Empire.
"We ask of you to keep calm and carry on whilst saluting the valiant efforts of Tactical Nuclear Penguin whose fall has allowed the German's to recapture the world record for the strongest beer.
"Well, until now that is. The tide has turned and the restoration of our nation's pride is drawing near."
Sink the Bismarck! is kettle hopped, dry hopped then freeze hopped for a deeply fruity, resinous and spicy aroma. The flavours explode into crescendos of malt, honey, sweet alcohol, hop oils, coating hop resins then kick you with a torpedo of hop bitterness.
In 2009 Brewdog launched their 'Equity for Punks' campaign which aims to raise £2.3m to build a new eco-friendly, carbon-neutral brewery in Aberdeen. Beer lovers can buy shares for £230 each which will allow them to have a have a say in important company decisions, receive annual dividends and will also benefit from a 20% lifetime discount off beers at www.equityforpunks.com.
James added : If you are lucky enough to get your mucky little paws on one of these bottles, Plug in, kick back and enjoy as we welcome to the stage the world's strongest beer, officially cranked up to 11. Cast away any aspersions and let the crook of BrewDog be your guide in a whirlwind of conformity and mediocrity.