Boulder Beer Company To Release New Year Round Beer – Shake Chocolate Porter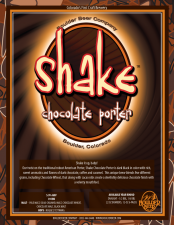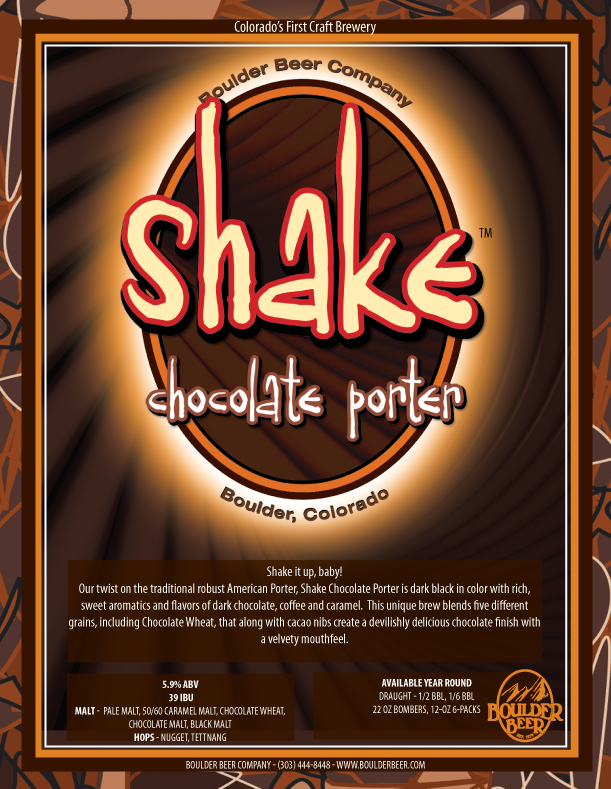 Boulder, CO – Boulder Beer Company, Colorado's First Craft Brewery, will release a new year round offering in October called Shake Chocolate Porter.
A twist on the traditional robust American Porter, Shake Chocolate Porter is black in color with rich, dark chocolate aromatics and flavors and subtle coffee-like notes. This unique brew blends five different grains, including Chocolate Wheat, that along with cacao nibs create a devilishly delicious chocolate finish with a velvety mouthfeel.
"Shake's our first year-round release in over four years and I am stoked we have married two of my favorite flavors — chocolate and coffee — in my favorite beverage — beer!" said Boulder Beer President, Jeff Brown. "Rich and warm enough to stave off a chill yet still light on the palate, Shake is my go-to beer this cyclocross season."
Shake Chocolate Porter will be available year round in all markets where Boulder Beer is distributed, in 22-ounce bottles, 12-ounce six packs and draught.
Locally, The Pub at Boulder Beer Company will be celebrating the release and tapping its first kegs of Shake on Friday, October 4th with $3.50 pints from 4pm – close.
Founded in 1979, Boulder Beer Company has been a pioneer in the craft brewing industry for 34 years. Their passion for innovation keeps their brand mix diverse, offering a taste for every palate. They currently package seven year-round beers, six rotating seasonals, and periodically release very limited-edition, small-batch brews throughout the year. Hazed & Infused is currently their top-selling beer.
www.boulderbeer.com – @BoulderBeerCo – facebook