Bottle Logic Space Trace 2018 Bottle Release Details
Bottle Logic has recently posted their Eventbrite page for buying bottles of Space Trace, a 13% ABV bourbon barrel-aged imperial stout with cacao nibs and coconut. See the details below.
Beer description: Captain's Log Stardate 95904.78: Made bold by the successful endeavor of their German Chocolate Cake-inspired stout, our cosmonauts set a new course to further explore the galaxy of cacao nibs and ethereal coconut within the deep space of decadent, bourbon barrel aged stouts.
Ticket Purchase Details: Once you've selected your desired ticket quantity and clicked "Checkout," Eventbrite treats the registration page as a waiting room with a six-minute time limit, but it does not hold your tickets! Have your Government Issued ID (drivers license, passport, or military ID) and form of payment on hand and ready to go. You'll want to move through that screen as quickly as possible – the tickets are officially yours once you've hit complete and the credit card payment has been processed.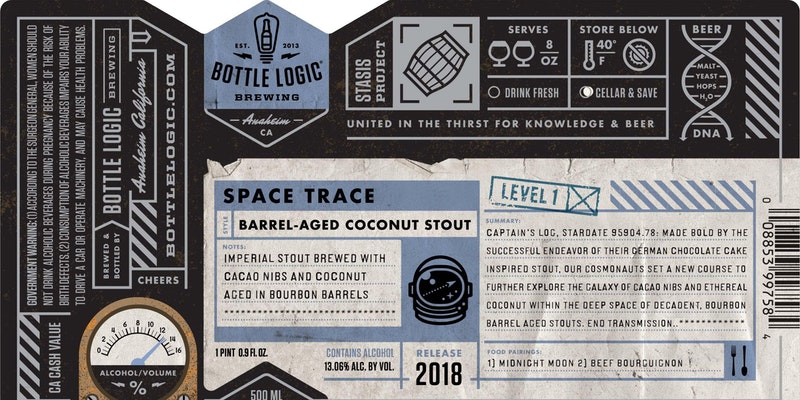 The Academy of Exploration Bonus Bottle Sale will run from 12:00am on Friday, 4/13 – 11:59pm on Saturday, 4/14.
Tickets for the Public Bottle Sale will go live at 12:00pm on Sunday, 4/15.
Bottles of Space Trace are $22.95 each, limit two per person.
These prices do not include Eventbrite tax + processing fees.
Tickets may be redeemed at the Bottle Logic Tasting Room beginning at 12:00pm on Saturday, 4/21 until 8:00pm on Sunday, 5/6 during regular Tasting Room operating hours only.
Please visit bottlelogic.com for holiday closures and location.
In the interest of ensuring our local patrons don't get shut out of online sales, we do not permit 'proxy' pick-ups.
The name entered as the Ticket Buyer must match the name on the credit card used for purchase. Conflicting orders will be deleted. When retrieving your bottles you must present your valid ID and the information must match. You may be asked to present the credit card used for your purchase upon pick-up.
To exchange your tickets for your purchases, you must bring your tickets (printed or mobile) and show your VALID ID that matches the name and ID number on the ticket. Expired, hole punched or otherwise damaged IDs will not be accepted, even with DMV paperwork – this has been and will continue to be our house policy.
If tickets do not sell out online, bottles may be available for purchase in the Tasting Room after the sale concludes.
Release Party
We're hosting the Space Trace release party on Saturday, 4/21 where you will be able to enjoy draft pours of this beer as you exchange your Eventbrite tickets for your purchases at a convenient pick-up station. No tickets are necessary to attend, everyone is welcome!
Visit the Eventbrite page here.