Boston Startup Collabs With Portico Brewing on Hologram Style Can Label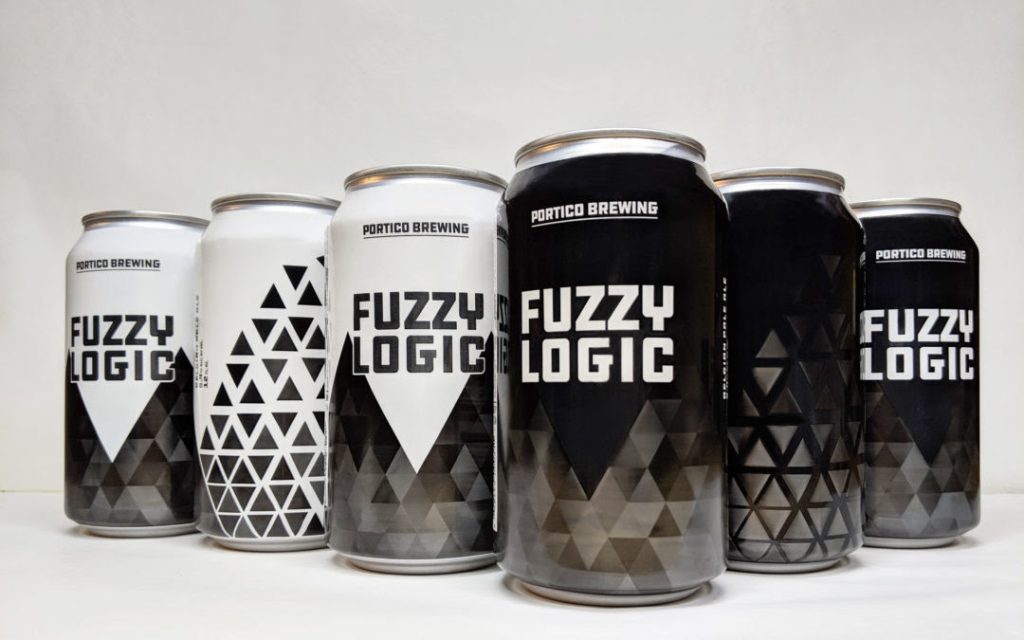 Put some design in your stein is the tagline for Portico Brewing, a Massachusetts contract brand started by two architecture enthusiasts seven years ago. Later this month, with the help of an award-winning tech startup, the small brewery is poised to take its tagline to the next level. That's because Tom Baran and Matt Hirsch, co-founders of Boston based Lumii Display, have come up with a way to create hologram or 3D-like digital imagery for beer can labels. The potentially revolutionary new technique relies on intricate algorithms they develop, that can then be used on a normal flexographic printing process and on standard shrink-wrap labels.
It's never been done before, and given the impact of label design on craft beer retail sales these days, it could be the next big trend in packaging. "It lets a brand capture the consumer's attention by creating imaginative new embellishments on its packaging, which up to now weren't possible," says Hirsch.
The first beer can label to don a design using the new technology will be Portico's Fuzzy Logic, a Belgian style Pale Ale which co-founder Alex Rabe says was due for a label refresh. The first beer they ever put out, its name was inspired by their stubbornness in sticking with a volatile yeast strain that they eventually got right. The choice seems apropos for a brand who's unusual path to success has defied logic since its inception; launching as a gypsy brewer, refusing to brew a flagship IPA, and continuing to distribute its beer in 12-ounce bottles and cans.
The same unconventional logic may help Lumii revolutionize the labeling business. "What we''re doing at Lumii is replacing a traditionally physical good [in this case a holographic foil] with a digital product," explained Baran. "That means you have on-demand digital inventory without the cost of physically integrating the embellishment. You're using the same printing press, just with different data on the plate." The first run of Portico labels was done in partnership with press manufacturer MPS Systems, which Baran lauded for its level of accuracy and support.
As interest from more beverage producers increases, Lumii will be looking for more partners to help them roll out the new embellished packaging in coming months, which shouldn't require changes to current protocols for seaming labels or delivering cans to breweries. Nor does it raise concerns of can sustainability, a problem in traditional embellishment since laminated layers can cause issues with recycling.
Amid the competition for retail sales, especially on beer store shelves, brands are increasingly looking for a way to stand out. As reported by Brewbound last month, some are even turning to augmented reality labels. The new technology "allows brands to animate their already existing packaging using an app or webpage," writes Erin Cabrey. It's one way a smaller company with less money can "articulate its brand message in a more personalized and flexible way [than traditional advertising]." But it does require a commitment on the part of the consumer, who has to be willing to take out their phone and download the app. It also requires up front investment from the brewery that not every owner can afford.
With their new technique, Hirsh and Baran want to help craft brewers get even more creative with their designs. The goal, they say, is to create something that's different from other labels on the shelves, but without the exorbitant cost of purchasing new equipment or using new materials. They plan to debut a website where designers can log on and try out different ideas, then create them using certified label producers with access to the patented process. Everything will be unveiled at the upcoming FTA Forum & InfoFlex event on May 5th in New Orleans, where attendees will have a first look at the new technology.
Rabe and fellow Portico co-founder Alex Zielke won't be at the trade show, but they are excited to see six packs of the newly designed black and white 12-ounce Fuzzy Logic cans on retail shelves in late May. "We went with a subtle effect for the new design," says Rabe, "but it gives you a sense of what's possible." He thinks it will definitely stand out from their other labels, and says he and Zielke are already working on ideas for their other beers.
About the author: Rob Vandenabeele lives in Cambridge, Massachusetts and is co-founder of the Mass. Brew Bros, a website and social media presence that covers all things craft beer in his home state. Widely considered the go-to resource for craft beer drinkers living in and visiting  the area, their motto is "spreading good beer."