Bolero Snort's New Tābull Saison Hits Tables & Taps Throughout NJ
Ridgefield Park, NJ – Warmer days are upon us, and there's no better companion than a light and refreshing beer! Bolero Snort introduces its newest, award-winning beer – Tābull Saison.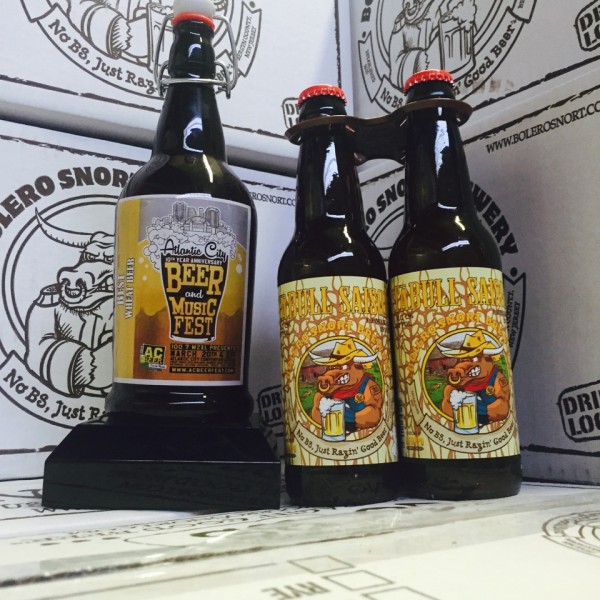 Pronounced "table," this 4.5% ABV Farmhouse Ale pays homage to the rustic, low alcohol beers drank across Eastern European countrysides in the late 1800s. The hazy brew proves to be highly quaffable and fizzes with aromatic, fruity notes, and subtle funk.
Tābull Saison made its debut at last month's Atlantic City Beer & Music Festival, where it won 1st Place for Wheat Beers in the blind-judging. The brewery's flagship Session IPA, Longhop, also won 1st Place for Best New Jersey Brewed Beer.
"It's always a bit nerve-racking when you put a new creation out into the world," said co-founder Andrew Maiorana. "Doing so on as large a stage as the AC Beer Fest was a gamble, but it really paid off – people absolutely loved it!"
Sales and Events Manager Scott Wells, who came up with the idea for the new beer, went on to explain, "The great thing about this beer is that it appeals to both the enthusiast and the casual drinker alike. Anyone who likes beer should enjoy a pint of this on a hot day."
Tābull Saison is available now on draft and in four packs of 12oz bottles throughout Bolero Snort's self-distribution network.
Pairing Notes:
Appetizer: Arugula & Roasted Pear Salad, Charcuterie
Entree: Pad Thai, Cracked Pepper Encrusted Pork Tenderloin
Cheese: Homboldt Fog, Parmesan
Dessert: Peach Cobbler
www.bolerosnort.com – @BoleroSnort – facebook