Bolero Snort Brewery Releases Longhop IPA This Friday
(Ridgefield Park, NJ) – Since hitting the New Jersey market just over a year ago, fans have asked and now Bolero Snort Brewery delivers. Bolero Snort will be adding a sessionable hop bomb to its year-round line up. Longhop IPA will be available on draft and in four packs of 16oz cans. It hits Bolero Snort's self-distribution network beginning Friday, March 28th.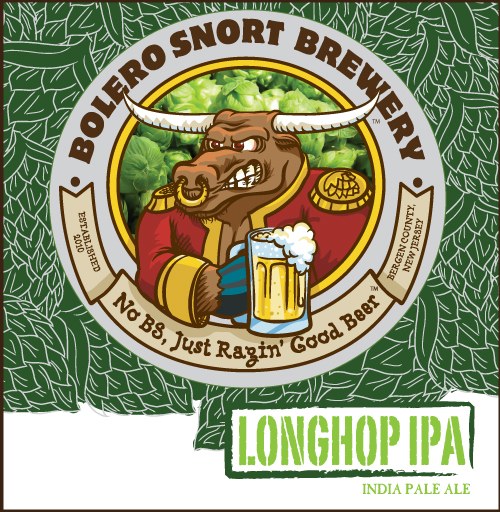 "We refused to cut corners on our IPA," explains co-founder and brewer Andrew Maiorana. "Being new to the industry, we waited until we could get the hops to make this beer shine, rather than sub in something just to get the beer to market earlier."
Brewed in the West Coast style with four different hop varieties, Longhop IPA provides a bouquet of citrus flavors along with a firm, lingering bitterness. Generous dry hopping lends to aromas of melon and tropical fruits, with hints of pine. Clocking in at just 4.2% ABV, Longhop IPA can be enjoyed all day long by both hop heads and new craft drinkers alike.
While Longhop IPA is the second Bolero Snort beer to hit cans, it's the first to join their regular rotation. In addition to being much more portable, cans create a better seal, locking in carbonation, which is vital to the aromatics of an IPA.
Pairing Notes:
Appetizer: Fried Cheese Curds
Entree: Cajun Fish Tacos, Thai Curry Chicken
Cheese: Sharp Cheddar, Cambozola
Dessert: Citrus Fruit Tart, Carrot Cake
www.bolerosnort.com – @BoleroSnort – facebook