Block 15 Brewing – Figgy Pudding 2014, Framboise Black and Giving Thanks Release
(Corvallis,OR) – Join us November 22nd for our next bottle release of Figgy Pudding, Framboise Black and Giving Thanks. Check out the information below about each beer, bottle limits, and brunch reservations.
We have decided on a new 500ml bottle for all of our future bottle conditioned offerings. Both Figgy Pudding and Giving Thanks have been bottled in this new design. Framboise Black was bottled in our remaining 375ml format bottles. These new 500ml bottles are the perfect size for our specialty beers, not too large for a single serving but big enough to share with your friends.
Limits and offerings are subject to change.
Figgy Pudding 2014
Our holiday offering was brewed with English pale & specialty malts, white & black figs, and black strap molasses. It was then matured in freshly emptied brandy barrels and gently spiced with Ceylon cinnamon and hand ground nutmeg. This blend includes 9 of 12 barrels we had available. We made a couple slight tweaks this year by was adding the figs to our kettle at the end of boil instead of the conditioning tank. We also added just a touch more spice. The Ceylon cinnamon throws a wonderful citrus note to the finished beer! The final blend is fantastic with rich caramelized fig character; gentle spicing, citrus, with warming brandy. Each barrel was plated twice in our lab prior to bottling. 11.5% ABV $11/ 500ml, Limit 6
We brewed Framboise Black as we were not able to procure enough golden raspberries last year for Framboise White. This beer is brewed in the same manner as Framboise White and is a blend of strong Belgian style witbiers matured in French Oak barrels with locally grown black cap raspberries. We open fermented the beer with our house blend of Belgian yeast, brettanomyces, and lactobacillus. Mysteriously purple black in color with rich jammy fruits, supporting body, and a balanced sour finish. The bottle limits are low as we lost half our the barrels to flooding this past spring.
8.5% ABV $9/375ml, Limit 2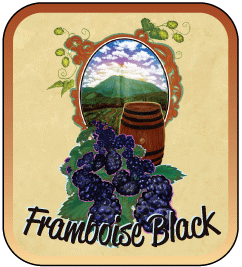 Giving Thanks
From our wild cellar comes this blend of Belgian style Dubbels from 2nd use rum barrels and strong ale from brandy and 2nd use bourbon barrels. All of these beers underwent an extended lactic fermentation in barrels for 11-28 months. Akin to an Oud Bruin, the final blend is balanced with gentle acidity and supporting malt character. Implementing the use of 2nd run barrels allowed us to control the oak and spirit character to a supporting role. Giving Thanks is a wonderfully complex beer with notes of nuts, tobacco, plum and oak with supporting acidity. 10% ABV, $11/500ml, Limit 4
—–
Bottles At 11am
When we open for regular business at 11am we will have enough bottles at the below limits for at least 50 people in line. We will also have hot coffee, high fives, and Figgy Pudding doughnuts made by our friends at NutCakes for those waiting in line.