"Best Fishes" for the Holidays from Flying Fish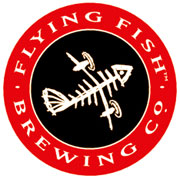 As a small company, we really appreciate each and every one of you folks who have helped us get this far.
As we move into our 13th year, we'd like to close out this year by thanking you for your support of the beer, making our events as fun as they are, stopping by for tours, and for sending great e-mail.
So from everyone at Flying Fish, we wish you the best of the season and a peaceful, prosperous and Fish-filled 2009! There will be many changes for us on the horizon in 2009 (including new beers), so stay tuned.
We'll be closed for tours Dec. 27, but will do tours during that week by appointment. So if you have family and friends in from out of town, bring 'em on over–just call first.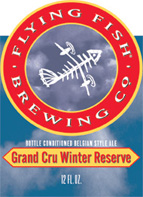 Winter Weather and Winter Ale, A Perfect Match
All our bottles of Grand Cru Winter Reserve have shipped, so what's out there is all there is. Enjoy this Belgian-style Strong Golden Ale while it lasts. It's also available in draft versions as well.
Fishwear Gifts Make For A Cool Yule
Why fight the crowds at the mall when you can pop open a Flying Fish and stop by the FishWear Holiday Super Mega-E-commerce Giftplex on our web site where you'll find an exquisite selection of everything you'll ever need.
New items include new T's, Flying Fish license plates and more. And if you're overwhelmed, there's gift cards too. Check it out.
Order by noon Eastern Dec. 19 and receive your order by Dec. 24 (USPS willing). After that date, please contact us regarding express shipping options.
If you can't make it by the brewery during tour hours but would like to pick something up, give us a call and we'll figure out a time that's convenient for you.