Bear Republic Launches Exclusive Barrel-Aged Beer Club
(Sonoma, CA) – Brewing handcrafted beers for over twenty years, Bear Republic Brewing Company has recently expanded on their barrel-aged program with the introduction of its Wild Club, an exclusive, members-only club.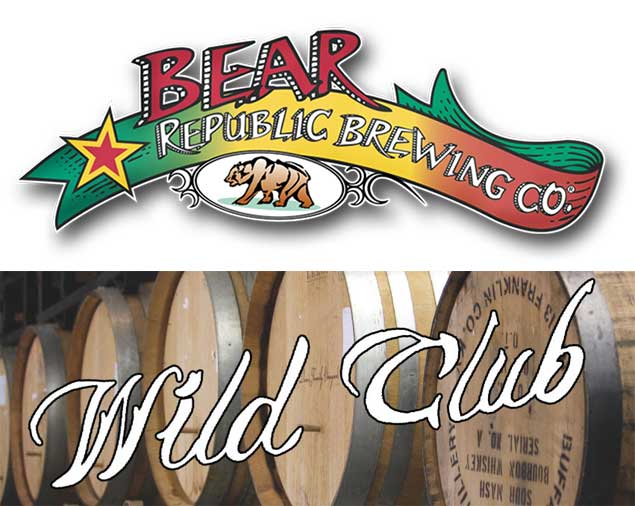 Wild Club Manager Frances Kruger stated, "We want our members to fall in love with the passion and creativity of our team and the expression that comes through in the beer."
Bear Republic's Brewmaster and COO added, "We are very excited. This has been a labor of love for us and we are happy to share this with our customers. We think everyone will be very excited about the beers."
There are two club levels available, Wild Club and Wild VIP. There is no fee to become a member, you just pay for your beer each shipment and enjoy the perks!
Exclusive access to Wild Club beers
First access to purchase library beers and magnums
Save on shipping: Bear Republic will split the cost of shipping on all full case (12 bottle) purchases
Invitations to dinners with the brewers
Private tours of the Bear Republic facilities
Each shipment will include a one-time use 10% discount (20% discount for VIP Members) coupon for items on the Bear Republic website www.bearrepublic.com or at the brewpub in Healdsburg.
The Wild Club consists of four shipments per year: February, April, September, and December. With beers carefully chosen by Bear Republic's brew team, the beers released in this month's shipment are:
Barrel 188: This Little Figgie
We brewed this giant monster of golden ale specifically to put into barrels in December 2014. Our dear friend Marko Karakasevic from Charbay Distillery sold us these barrels, which had been used to age brandy for over 30 years!
This Little Figgie has so many complex layers – you will love pairing it with your food! There is a smoky sweetness that pairs well with barbecue and char, and the caramel component complements desserts, such as toffee and chocolate to perfection.
'Twas the Beer before Christmas
This is a blend of Bear Republic's Old Baba Yaga, Tartare Noir, Tartare Apricot, and "Epic", huge brown ale. It gets its peanut butter roast malt character, dried apricot dustiness, and clean tartness from a battle royal of house yeast and adopted critters. The base beers have additions of licorice and dried fruit, and have been barrel-aged for up to 28 months, resulting in a reddish-black color.
Goat Rock Funk (VIP Members Exclusive)
Goat Rock Funk is created with a spontaneous ferment starter from Goat Rock Beach on the Sonoma Coast. The natural yeasts from this area provide a unique flavor derived from this particular terroir. This starter is added to the wort into a single, neutral reused wine barrel and fermented. The natural yeasts and barrel characteristics create an enjoyable wild ale that has lemon-lime tartness, citrus, and pineapple notes, with a fruity and estery nose. Goat Rock Funk pairs well with dry-aged goat cheese and creamy chicken dishes.
Interested in joining? Visit wild.bearrepublic.com or email [email protected] with questions.
At this time, the Wild Club is only shipping to California addresses, but you may contact Bear Republic to inquire about your state. Live locally? You can pick up at the brewpub!
#BEARREPUBLIC #WILDBEARCLUB #BARRELAGED #CRAFTBEER #SONOMACOUNTYALES #HONESTALES #INDEPENDENTFAMILYBREWERS
Founded in 1995, we are a family-owned brewery located in the heart of Sonoma County, California. Founded by third and fourth generation Sonoma County residents, we pride ourselves on heritage. Our love for quality craft beers grew us into the family-owned and team oriented business we are today. Our brewpub is located in historic Healdsburg, California, where cultivation, art, and creativity have thrived for centuries. The brewpub hopes to create an atmosphere that locals can call their own and makes visitors feel at home.
Sonoma County Ales®
Independent Family Brewers
www.bearrepublic.com – @BearRepublic – facebook