Bayou Teche Releases Their Third Beer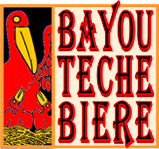 Arnaudville, LA – Bayou Teche Brewing is releasing the third in their LA-31 series of beers.
The beer, LA-31 Grenade is brewed with wheat and passion fruit. The beer is named for the Cajun French word for the fruit which grows wild around Acadiana.
Said Bayou Teche's brew master Karlos Knott, "Passion fruit vines grew wild on the fences of our grandfather's farm. It still grows abundantly around our family's crawfish pond and behind the brewery along the banks of the Bayou Teche. As boys, my brothers and I ate a lot of them growing up. Now when they are in season, after a hot day's work we look forward to sitting in the shade of a large oak tree on that bayou, enjoying the pulpy, tropical fruit till we nearly make ourselves sick."
When they arrived in Acadiana, the French-speaking settlers encountered the passion fruit vines growing here and named the fruit grenade (pronounced gruh-nod). Grenade is the standard French word for the pomegranate (which the passion fruit resembles), though Cajuns still use that word for the passion fruit to this day. Its juice has a refreshingly tropical, guava-like, sweet/tart flavor.
Said Knott, "Grenade is our wheat beer, which we brew to quench Acadiana's warm weather thirsts. The ale is the color of a South Louisiana sun, and pours with the bright citrus flavor of passion fruit."
Grenade beer was crafted to pair with the Acadiana's lighter fare. The brewery brews the beer to go with a Creole brunch, or dinner salads; Sunday baked chicken, or crabmeat au gratin. One pairing was discovered accidentally by the brewers. On night, one of their favorite restaurants offered them raw oysters and they already had ordered glasses of Grenade. "The citric acidity of the Grenade and the fresh, Gulf-water saltiness of the oysters makes it one of my favorite pairings." says Knott.
Grenade is available both on tap and in 12 ounce bottles in stores, restaurants and bars around Louisiana. Knott said, "We definitely wanted to offer this beer in bottles. That way, like us ya'll can find the shade of large moss-drenched oak tree on a bayou nearby and enjoy a cold one."