BarrelHouse Brewing Announces 2016 Curly Wolf Release
(Paso Robles, CA) – Introducing the first release of our 2016 Reservado De Robles beers. This oak barrel-aged, limited release series is the canvas for our talented brewing artists. Creamy and complex, this Russian Imperial Stout was aged in bourbon barrels until the time was just right. We added fresh maple syrup to the boil and whole vanilla beans to each barrel to create it's unique flavor and sought after complexity.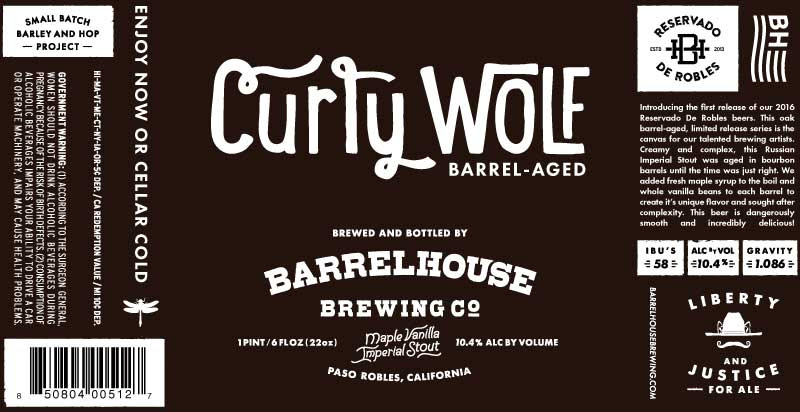 This beer is dangerously smooth and incredibly delicious!
The Wolf is back and at 10.4% ABV it's even more Curly than before! This Maple Vanilla Bourbon Barrel-Aged Russian Imperial Stout has been a crowd favorite since its first release and this year's batch is even better than the ever.
Join us Wednesday, February 10th in San Luis Obispo and/or Thursday, February 11th in Paso Robles for the release of our 2016 batch of Curly Wolf.
The fun begins at 4pm:
• 2016 Curly Wolf available on draft
• 2016 Curly Wolf in 22oz bottles available for purchase
• Limited number of 2015 Curly Wolf in 22oz bottles re-released and available for purchase
• 2015 and 2016 Curly Wolf vintages available for side by side tasting (while supplies last).
• Meet our Head Brewer, George Numair in San Luis Obispo on Wednesday.
• Meet our Barrel Meister, Mathew Jacobs in Paso Robles on Thursday.
• Keeping with tradition, we've created a special 2016 run of men's and women's Curly Wolf t-shirts available for purchase at the event. Inventory is      limited and when they're gone they're gone!