Banger Brewing Shares GABF 2014 Offerings With You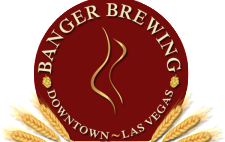 What happens in Vegas usually stays in Vegas, unless you brew craft beer in Vegas and want to showcase your beer at the greatest festival of them all. We are talking about Banger Brewing of Las Vegas, NV heading to the Great American Beer Festival in Denver this October.
Find out what Banger Brewing is bringing to GABF 2014 for sampling and what they are entering into the medal winning competition. Follow along all month long as we unveil as many breweries as possible between now and the fest.
Banger Brewing Will Be Pouring The Following Beer at GABF
1. El Heffe, Hefeweizen, Herb and Spice Beer, 5.2%
2. Knight Ryeder, Imperial Stout, Imperial Stout, 7.9%
3. Hop Bang Boom, Imperial IPA, Imperial IPA, 7.7%
4. Perfect 10, Pale Ale, American Style Strong Pale Ale, 6.1%
5. DTB, Brown Ale, Brown Porter, 6%
Banger Brewing Will Be Entering The Following Beers into the GABF Medal Competition
1. El Heffe, Hefeweizen, Herb and Spice Beer, 5.2%
2. Knight Ryeder, Imperial Stout, Imperial Stout, 7.9%
3. Hop Bang Boom, Imperial IPA, Imperial IPA, 7.7%
4. Perfect 10, Pale Ale, American Style Strong Pale Ale, 6.1%
5. DTB, Brown Ale, Brown Porter, 6%