Award-Winning Brewer Devon Randall Moves to Arts District Brewing
When Blue Palms' Brian Lenzo announced that he would be teaming up with Cedd Moses' 213 Nightlife group to open Arts District Brewing in downtown Los Angeles, the city's beer fans and long-time patrons of his Hollywood craft beer bar couldn't wait to hear about who would be heading up his brewing operations. Luckily for L.A., Lenzo and his partners have signed on some killer talent by way of Pizza Port Solana Beach's Devon Randall.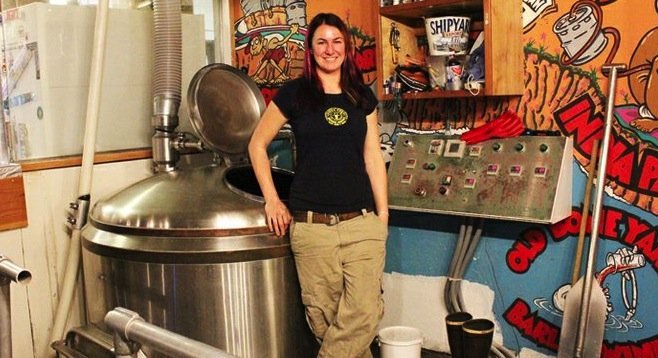 The GABF award-winning brewer is known for her diverse portfolio of fan-favorites including her Oats (Oatmeal Stout), Citra-R-Ama, and various collaborations with other breweries and female-led organizations such as the Pink Boots Society and Brewbies. Randall first met Lenzo during the Blue Palms Brewhouse soft opening nearly seven years ago and was then introduced to the 213 Nightlife group (Cole's, Seven Grand, etc.).
The move may seem like a bit of a shock to some who have been following Randall's career in the San Diego area, but to Randall, this move is almost like a homecoming.
"I'm from west LA, so moving back doesn't feel like too risky a move," Randall explained. "I'm still close with a lot of beer industry folk and brewers, and I look forward to working more closely with them."
She went on to explain that she had to make the move to San Diego five years ago in order to get her brewing experience during a time when L.A's beer culture was still getting off the ground and her engagement with the community consisted of being a participatory member of the Pacific Gravity homebrew club.
"There were literally no opportunities for someone with no brewing experience back then," Randall said. "I'm excited to be a part of L.A.'s beer community as we experience this current period of incredible growth."
Fellow female brewer Alexandra Nowell, Brewmaster at Three Weavers Brewing (whom Randall collaborated with at Pizza Port in 2014), had this to say about Randall's new L.A. chapter.
"I'm incredibly excited about Devon joining the L.A. brewing community," Nowell said. "There is always room for amazing beer in this town and she is a top notch brewer."
Randall continued to express her excitement to dive into L.A's beer community in a collaborative way with local farmers, coffee roasters, artists and beyond.
"I'm hoping to create symbiosis between various craft interests in LA," Randall said.
Her partnership with Arts District will bring a slew of creativity into their inaugural beer lineup as ownership has offered her carta blanca on what beer styles she will be able to brew on their 15bbl Premiere brewhouse. Expect hoppy west coast IPAs, solid stouts, and room for more playful brews.
"In partnering with 213 ventures, there is huge access to rare spirits barrels, so that will be a lot of fun to play with," Randall said. "And while barrel-aging takes time (expect those beers some time next year), my personal taste is broad, so a versatile tap list that covers many styles is my goal."
Randall will begin her career with Arts District Brewing later this month. The operation will be starting out at a projected 1500 barrels in their first year with exclusively local distribution.
Lenzo also expressed that he is looking forward to bringing her talents to the team.
"She [Randall] is such a great brewer," Lenzo said. "We can't wait to share her great beer with Los Angeles."
Stay tuned for further updates on the progress at Arts District Brewing. And to our San Diego-based readers, rest assured, the brand that helped boost careers for top brewers like Jeff Bagby (Bagby Beer Co.) and Yiga Miyashiro (Saint Archer) will surely find someone worthy to fill those boots.
Welcome back to L.A, Devon!