Avery Uncle Jacob's Stout Returns – Brewery Release with Case Limit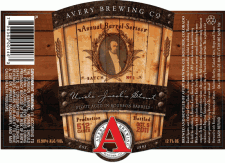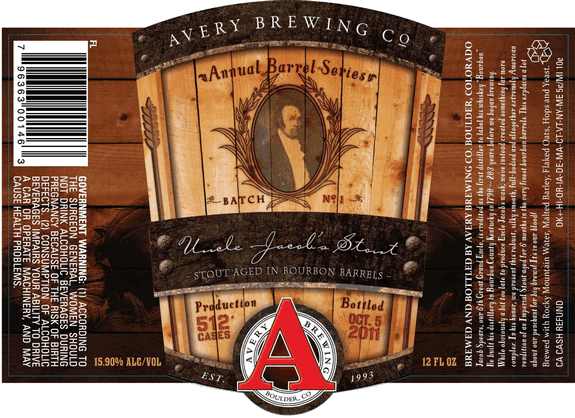 Boulder, CO – Break out your banjo and your overalls and get ready to stock your cellar because Uncle Jacob's Stout is coming soon. It will be the second release of the highly coveted and critically acclaimed Uncle Jacob's Stout. The second member of Avery's Annual Barrel Series, it is a 16.5% ABV stout that was aged in first-use Bourbon barrels for 6 months.
The idea for the beer came during a genealogy project when Adam Avery's family discovered his 6th great-grand Uncle Jacob Spears.  Spears established a distillery in Bourbon County, Kentucky in 1790 and is credited historically as being the first distiller to label his whiskey as "Bourbon" for distribution.  When asked about naming the beer after his distant relative, brewery president and owner Adam Avery remarked, "We share a similar drinking problem – he had to start a distillery, and I had to start a brewery."
"We loved the beer so much last year that we didn't really make any changes," said Avery's chief Barrel Herder Andy Parker. "If anything, this year's batch seems to show a little more barrel character, a bit more charred oak." Just like last year, the biggest challenge was bringing balance to a brew of such high alcohol content.  To offset the natural astringency from the high alcohol and the barrels' oak tannins, dark specialty malts with caramel and toffee flavors were chosen over more roasty and coffee-like malts.  A liberal dose of flaked oats was also added for richness and mouth feel.  After four weeks of fermenting with an English ale yeast and 6 months resting in the oak barrels, the brew boasts flavors of toffee, caramel, vanilla and hints of coconut from the Bourbon barrels, as well as dried currants and cherries.
The Avery Tap Room in Boulder, CO, will host the release of Uncle Jacob's Stout, starting sales at 5pm on Sunday, July 7th, 2013.  Bottles are 12oz. and will be sold as singles at $12 each. While the Avery Barrel-Aged Series features one-time-only batches, such as the recent Momi Hiwa and Ross's's' Melange, the Annual Barrel Series features a selection of cellarable barrel-aged beers that fans can look forward to year after year. This year Avery has decided to turn the release into a "cellar building party" so fans will be able to buy up to one case (24-12oz bottles) so they can buy enough to enjoy some now and have enough to drink in the years to come to explore how the beer changes over time. There will be a line party starting at 11am featuring rare and exclusive beers available for purchase as well as some blue-grass pickers entertaining the crowd. Availability of the beer can only be guaranteed at the Avery Tap Room during the release party until it runs out.  For more information, beer connoisseurs can check www.averybrewing.com or email [email protected].
Established in 1993, Avery Brewing Company has developed a reputation as being one of the most daring and visionary breweries in the nation.  They are the brewers of Avery IPA, The Maharaja Imperial IPA, White Rascal Belgian Wheat Ale, Mephistopheles' Stout and eighteen other year-round and seasonal beers.  Please go to www.averybrewing.com for more information on Avery beers.