Avery To Release Oud Floris June 24, 2012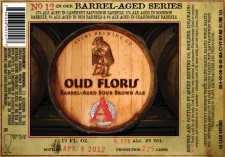 Boulder, CO – Expanding their one-and-done series of experimental barrel-aged beers, Avery Brewing Company sets the date to release Oud Floris, a sour brown ale blended from thirteen wine and liquor barrels.  At a very limited release of 252 cases, the brew spent between 1-3 years maturing in 13 different barrels, and presents what the brewers describe as a "Flanders-esque" flavor profile, both sweet and sour with notes of fruitiness.
While the beer pays tribute to the sours and brewing tradition of Belgium's Flanders region, the name is a dedication to Avery's brewery engineering consultant Floris Delée.  Formerly the brewmaster of Dogfish Head Craft Brewery, Delée has been the chief consultant for the design of Avery's new facility in Boulder, CO, and has become an indelible part of the Avery Brewing Co. team and family.  As the designs and planning continue, the initial size of the building will be 72,000 sqft with overall costs of the project estimated at $27 million.  Including state of the art brewing systems, an aerial brewery tour walkway, full service Tap Room and retail store, owner Adam Avery plans for the brewery to be a homage to America's craft brewing tradition.
The Avery Tap Room in Boulder, CO, will host the release of Oud Floris, starting sales at 4pm on Sunday, June 24th, 2012.  Bottles are 12oz. and will be sold as singles at $8 each.  Fans will be able to buy up to 6 bottles, and availability can only be guaranteed at the Avery Tap Room during the release party.  For more information, beer connoisseurs can check www.averybrewing.com or email [email protected].
Established in 1993, Avery Brewing Company has developed a reputation as being one of the most daring and visionary breweries in the nation.  They are the brewers of Avery IPA, The Maharaja Imperial IPA, White Rascal Belgian Wheat Ale, Mephistopheles' Stout and eighteen other year-round and seasonal beers.  Please go to www.averybrewing.com for more information on Avery beers.