Avery to Release Black Tot as No. 3 In Barrel Aged Series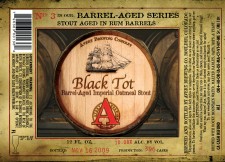 The Full Pint has just gotten exclusive word that Avery Brewing will be releasing Black Tot, their third release of their Barrel-aged Series, which will be bottled in mid-January 2010. We would like to share with you the label (Click to see larger image) , as well as an enticing description. Follow us on Twitter @159.203.216.33 and on Facebook for the best Craft Beer News, Reviews and Event Coverage worldwide.
Style: Imperial Oatmeal Stout aged in Rum Barrels
Malts: Two-row barley, Flaked Oats, C-150, Chocolate Malt, Roasted Wheat, Roasted Barley, and Black Malt
OG: 1.098    ABV: 10%   IBU's: 37
Barrels: Used in the production of Gosling's Old Rum
Color: Black with ruby edges
Availability: One and done.  315 cases produced.

No. 3, Black Tot, a Rum Barrel Aged Imperial Oatmeal Stout, will be bottled in mid-January 2010, and we plan to release the beer from our Tap Room on January 15th,  2010.  We saved some of original Imperial Oatmeal Stout (completely un-oaked and REALLY delicious as is) and also filled a single bourbon barrel and a rye barrel with the same stout.  While we'll only be bottling and releasing the rum barrel aged version, we'll have all four versions on tap at the release on 1/15!  Buy your plane ticket now!
From the label: "Swabbies, what could be better than your daily rats 'o thick, chewy and robust Imperial Oatmeal Stout?  What say you, matey's?  Aye, throw it in yer beloved empty rum barrels for aging!  To our sweethearts and wives, may they never meet! Huzzah!"
Make sure you look at the upcoming press release to see which markets we'll be releasing this beer in.  That decision hasn't been made just yet.