Avery The Maharaja Returns for Winter '12-'13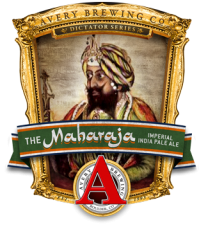 Scimitars of Simcoe®! Big kings need big beers, and to defend his kingdom, The Maharaja swings a huge scimitar of hops!  An entire half of his hop legion is comprised of Simcoe® soldiers – hops so intense that you'll think a pine tree and grapefruit tree made a baby, and it's kicking in your nose.
On December 12th, 5pm, at the Avery Tap Room bombers and draft go on sale of this insane Imperial IPA.  Accompanied by tasty Indian cuisine and Bollywood films in the Barrel Aging Cellar, the Maharaja himself will be here, and will allow you to take pictures with him!  22 oz. bottles of his majesty will be available in Colorado retailers beginning in mid-December, and invading our other territories beginning early January.  If you're ever curious where you can find fresh Avery beers near you, check out our Brew Finder!