Avery Margarete Announced for Barrel-aged Series + More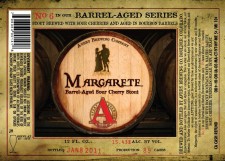 Avery Brewing Compny announces the return of Mephistopheles' Stout as well as the debut of Number 6 in their Barrel-aged Series, Margarete. Read on for the details. Cheers, TFP.
Mephistopheles' Stout – Official Release is Friday, December 3rd Featuring a Three-Year Vertical Tasting
Mephistopheles is a most formidable foray into the dark depths of what stout can be: a taste of this coal black, liqueurish and devilishly intoxicating brew will change the way you think about beer.  Stop by the Avery Tap Room the evening of Friday, December 3rd from 6-10PM to try the final installment in our Demons of Ale series.   $10 gains you access to the three-year vertical tasting and gives you the opportunity to purchase bottles of this annual release for your own cellar.  Snappa Tacos will be preparing specialty menu items to pair with Mephistopheles for an additional $4.
Don't live in Colorado?  Look for Mephistopheles' Stout to appear around mid-December in 12oz foiled bottles on shelves and on tap at establishments of better beer across the country.
Margarete
Barrel-Aged Sour Cherry Stout
No. 6 in our Barrel-Aged Series. Brewery Release Only.
59 Cases Shared. 30 Hoarded.
January 2011 Release Date TBD – Stay Tuned
Experimentation. Ales and lagers that defy styles or categories. This is what we are about: our driving force, our passion. To further facilitate this innovative spirit, we've developed our Barrel-Aged Series where anything, and we mean ANYTHING, goes! Brewed for those as adventurous as we are!
Margarete, the object of wanton desire, is a seductive stout transformed by sour cherries and 11 months internment in bourbon barrels into a devilish union of decadent fragrances and flavors.  All 59 cases of Margarete will go on sale one time only from the Avery Tap Room in January.  The exact release date for Margarete will be announced on www.averybrewing.com , the Avery Facebook page (www.facebook.com/AveryBrewing) and via this e-newsletter during the month of December.