Avery Brewing Releases Twenty One Next Week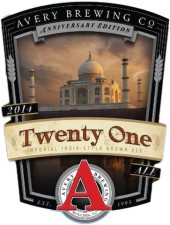 (Boulder,CO) – Our latest anniversary ale will be available in bottles and on draft in the Avery Tap Room starting on Friday, May 16th @ 5pm, and in stores and beer bars around the country soon after!
For those of you following our saga of 21 years, we FINALLY broke ground on our long planned and much needed Taj Mahal! An event of this magnitude deserved a unique hop bomb to toast with. TWENTY ONE is built on a foundation of dark specialty malts, framed by sturdy IBUs and crowned with a monumental dry hop addition of two of our favorites, Amarillo and Simcoe.
The last Anniversary Ale from Arapahoe Ave?
Yeah it is! Many thanks to you for assisting us in realizing our dream – brew by brew, brick by brick.
Stay tuned for details about our
21st Anniversary Party on August 3rd!