Avery Brewing To Release 5 Monks Bourbon Barrel-Aged Beer
Boulder, CO –This Sunday Avery Brewing Company will release No. 22 in it's Barrel-Aged Series, 5 Monks, a 19.4% ABV Bourbon barrel-aged Belgian-style quintupel ale.
Although Avery's brewers didn't go into this project trying to make the highest gravity beer in Avery history, that's what they did. But Avery's Chief Barrel Herder Andy Parker explains they were more interested in exploring ethanol as a flavor component. "As a brewer, the main reason to make these high alcohol beers is that there's a whole range of flavors out there that's virtually unexplored."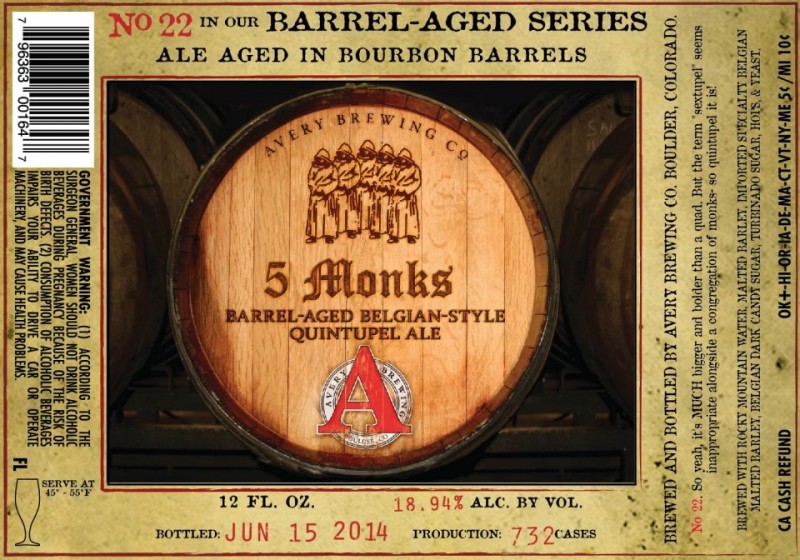 "In the spirit of quadrupels, we made the recipe to have lots of dark fruit and raisin flavors. Those match well with the vanillin compounds from the fresh Bourbon barrels and the charred oak," said Parker.
Adam Avery, the brewery's founder, says the entire Barrel-Aged Series has been fun for the brewers to dream up, and naming 5 Monks a "quintupel" was done in jest. "Belgian beers have a long history of singles and doubles and triples and the occasional quadrupel, so we're calling it a quintupel because 'sextuple' just didn't seem right with monks on the label."
"What do you call a 19.4% Belgian Bourbon beer?" Avery jokingly asks. "You tell me!"
Parker anticipates there will be some sticklers who maintain that quintuples don't exist. "You're right, they didn't exist. But they do now. We're creating our own destiny here."
Parker explains why he loved making this beer. "Avery Brewing has been on the ragged edge of experimentation for years. Everyone who works at Avery is a beer geek, and if we're not creating new styles that no one has ever made before, then what's the point?"
5 Monks is one of six beers over 15% ALC/VOL that Avery will release in the next several months: Rumpkin rum barrel-aged Imperial Pumpkin Ale, The Beast Grand Cru, and Mephistopheles' Stout, plus two beers that will be packaged and released for the first time ever: Pump[KY]n Bourbon barrel-aged Imperial Porter and Tweak Bourbon barrel-aged Espresso Stout.
"Building our new brewery has opened up lots of exciting opportunities for us, including expanding our barrel-aging program and having more freedom to explore. It's gonna be an exciting fall for us," said Avery.
5 Monks will debut on Sunday, July 27th at the Avery Tap Room in Boulder. The line party starts at 11am and will feature rare and exclusive beers. Bottle sales will begin at 1pm and will be sold for $12 each. Fans will be able to buy up to 12 bottles, and availability can only be guaranteed at the Avery Tap Room until the beer runs out.
Established in 1993, Avery Brewing Company has developed a reputation as being one of the most daring and visionary breweries in the nation. They are the brewers of Avery IPA, The Maharaja Imperial IPA, White Rascal Belgian-Style White Ale, Mephistopheles' Stout and more than 20 other year-round and seasonal beers.
www.averybrewing.com – @AveryBrewingCo – facebook